Website ~ http://byhandgranola.com/file/Home.html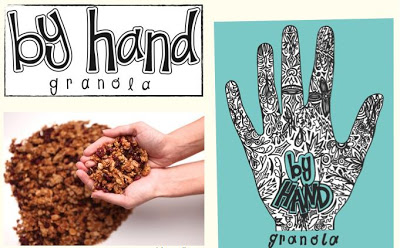 About By Hand Granola (from their website):
It's okay to be a little crunchy...so enjoy a healthy and delicious granola, from our family to yours. Always made by hand, with the best all-natural ingredients.
By Hand is more than just your run of the mill granola. It's a wholesome and satisfying snack for any time of day. Enjoy it with milk, yogurt, or just by hand. Feel good about your snacking!
Our granola helps support an active lifestyle. So let's eat healthy to stay healthy.
Links for By Hand Granola :
My Review :
My children and I had a chance to try out this yummy, healthy snack for this review. We were sent a sample of the original granola mix and the gluten-free mix. I personally like the gluten-free mix a little better than the original. My son and older daughter (ages 10 and 7) love them both equally. We really enjoyed the flavor and the fun "surprises" inside (nuts and sweet cranberries). Although I usually do not care for cranberries, I found the ones in the By Hand granola to be sweet and taste more similar to raisins. Not at all tart. It is a fun, wholesome snack that is a new favorite in my home. Check out their website for more information on this healthy, hand made treat!
*I received a free sample of this product through the Cyber Connect website for this review. Cyber Connect is a social media website where bloggers can connect with other bloggers from all over the world.
All reviews and opinions are my own. See my Policy & Disclosure page for more info.