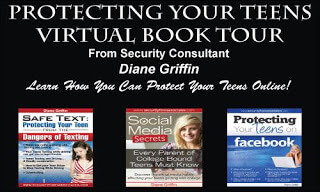 Have you thought of the dangers your teen could be in daily? Texting . . . Facebook. . . Social Media sites. . . and more? These books tell some ways to help protect your teen.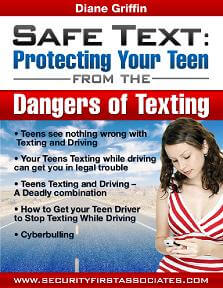 Safe Text is the first in a series of books on helping parents and teachers to protect teens from the dangers of technology.This book covers the dangers and legal liabilities of texting, texting while driving, sexting, and cyber-bullying. The book tells parents what they can do to dialog with their teens about this topic.

There are a growing number of teens who are engaging in seriously harmful texting on their cell phones that can have long-term repercussions, from emotional scars, to legal ramifications or even death. Help your teen text safely.
From Back Cover :
In the '80s, parents would joke that if they wanted to know how to operate their VCR, they would just ask their teen. Fast forward to today, and the saying now holds true for cell phones. Teens are very adept at learning the advanced functionality and technology that comes standard with many cell phones.
Cell phones, with their access to the Internet and texting capabilities, are not in and of themselves dangerous. Cell phones have improved our ability to communicate and help us accomplish many positive things. However, when you put this freedom and accessibility into the hands of teens whom have limited life experiences and maturity, you are inadvertently creating a potential risk for them.
When you look at the numbers …
* 73% of teens have cell phones
* 54% of all teens text message daily
* 22 % of teen girls and 20 % of teen boys have sent nude or semi-nude photos of themselves
* 24% of fatal car crashes involving teenagers between the ages of 16 and 19 were the result of cell phone usage
* 26% have been harassed through their cell phone by voice calls or text messages
* 47% have sent a text message they regretted sending
… and when many teens have unlimited texting cell phone plans, the opportunity for at-risk behavior increases significantly. Fortunately, you have this book and a variety of tools to help you keep your teen safe when texting … the foremost being education and a mutual agreement on how to use a cell phone responsibly. Following this Conclusion, I've included a Resources section with links to sites where you will find additional helpful tools and information. On the last page, you will find a sample parent / teen contract.
While the data would suggest that your teen may become one (or multiple) of these growing statistics, it is avoidable through taking action. As a loving, caring parent, I know you don't want your teen to become a statistic. Make a commitment: "… not my kid".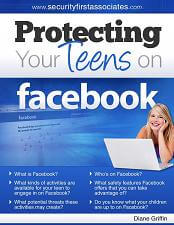 …even if your teens are online at home while you are there, are you aware of who they're hanging out with and what activities they're engaging in online?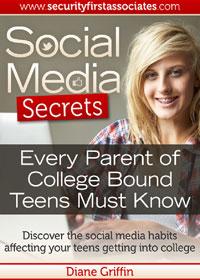 Did you know …
In 2008 only 10% of colleges checked applicants' social media activities and now approximately 80% check
Excerpt From Last Page :
I hope after reading this you have several ideas of how you can easily create college admissions and scholarship attracting social media and get it noticed through social networking sites to give your college bound teens an advantage. If, however, after reading this you and your teens are thinking, "Is this really necessary? Can't we just let teens be teens?" Yes, you can. However, letting your teens just be teens means they will just be additional applicants hoping to get into college. You want better for them!
Better takes some dedication. However, if you consider that over 95% of teens are active in social networks sharing social media, chances are your teens are already active. So dedication doesn't mean you have to necessarily do more, it just may mean they have to do something different. Separate from making some videos and adding a new profile or two to some of the social networking sites mentioned in this book, your teens' activities might be accomplished in the time they're already spending online.
They may need to change some of their habits from just hanging out with friends and being typically teens to cleaning up their profiles and what they share to make them attractive to college admissions officers. Plus, as you've read earlier, so many of the social networking sites now make it easy for members to share information between them. Adding new profiles and participating in one or two more networks doesn't take much extra work. Moreover, creating social media and sharing it through social networks can be fun.
Here's something else to consider … people with goals achieve far more than those without. By helping your teens set appropriate goals for getting accepted into the school of their choice, succeeding at securing a scholarship (or scholarships), and defining what they want their post-graduate life to look like, you will be able to define healthy, necessary actions they must accomplish now. Giving them focuses and some guidelines will give them an advantage!
While your current focus is likely consumed by thoughts of how to get your teens into college and how to pay for it, and your teens' aren't likely thinking beyond the first semester, the activities you and your teens take with the elements I've laid out in this book will have a significant impact on their future.
As more undergrad admissions officers are using social networking to connect with applicants and as part of their decision-making process, business schools, law schools and med schools are getting up to speed quickly, too. If your teens decide to enter the work force after their time in a 2-year or 4-year program, the business world is far more competitive in social networking and media than academia.
The sooner your teens can become proficient at successful social networking and media, the more competitive they will become at getting accepted into a college of their choice and getting a job post graduation. When your teens graduate, you don't want them to step out into the extremely aggressive, competitive world of seeking employment only armed with a piece of paper that states they've earned a degree. Give your teens better. Give them an advantage. Give them the secrets in this book.
Best Regards,
Diane Griffin
President / CEO
Security First & Associates, LLC
To Learn more about Security First & Associates, please contact us@ www.securityfirstassociates.com
Author Bio:
Diane Griffin is the founder and President of Security First and Associates. Ms. Griffin works with a variety of clients throughout industry. Ms. Griffin has also worked in a wide array of fields to include training, facilitation, communications, human resources and industrial security management and Ms. Griffin is the current Chaper Chair for National Classification Management Society (NCMS), Chapter 26
* This promotional post provided by Virtual Book Tour Cafe. This is not a review.*