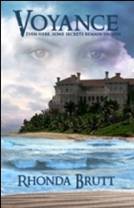 Emma Patterson was born with clairvoyant and telepathic abilities. But, for as talented as Emma is, she feels very alone in the world. No one she knows shares her gifts, or understands what it's like to be different; but, that all changes when her mother sends her away for her senior year of high school. Hidden along the Florida coast is Voyance, an institute for students with extrasensory talents. Here, Emma must learn how to navigate in a new environment, make friends, and rise to the challenges that being psychic present for her and her fellow classmates. She soon finds herself falling hard for the school administrator's only son, Alex. As their relationship grows, Emma and Alex discover that not everything is always the way it appears. There is more going on at the school than meets the eye. And sometimes, even being psychic doesn't give you the answers you need. Together, they uncover the school's secrets that some would do anything to keep hidden. They must find a way to uncover the truth about Voyance, without risking the bond they share . . . their future depends on it.
If you were psychic, what choices would you make?
My Review
:
I read through this book pretty quickly. I was captivated from page one. This is not your typical YA fiction read. I love the drama between Emma and her mother, as well as Alex and his father. The teenage/parent relationship is a great addition to most teen/YA novels and author Rhonda Brutt did a fine job of making it realistic in her novel. . . Voyance.
I was completely intrigued by Emma from the first and even came to like her roommate Kristen quite a bit. I think the characters are well-developed, the writing flows well and the book is full of enough suspense to keep it interesting. Overall a great read. I definitely recommend this book be added to your TBR pile - just don't leave it there too long!
A personal note
:
All reviews are my personal opinion. . . I recommend that my readers give all books a chance. I may like some that you may not and I may not care for some that you may love! We all have different tastes, I just hope you give some of these books I review and the authors I promote a fair chance to win you over!
*I received a free print copy of this book for this review. All reviews are my personal opinion. See my Policy & Disclosure page for more info.