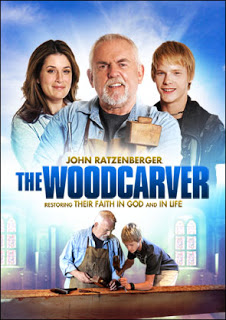 Matthew Stevenson is a troubled kid from a broken home. When he vandalizes the local church to get back at his parents, Matthew has to repair the damage to the church to avoid criminal charges. While working at the church, he meets Ernest (
John Ratzenberger
), an accomplished wood carver who created the intricate woodwork decoration that Matthew destroyed. Ernest has become something of a hermit, but reluctantly comes out of reclusion to help repair the church. Now Ernest and Matthew must work together to preserve the church's beautiful antiquity, and along the way, they also manage to restore their faith in God and in life.
My Review
:
This movie has a family friendly theme, but is not for younger viewers. For a large part of the movie, there are situations of Divorce, Anger, Violence and Vandalism. Although the movie itself is good, I think it is more for teens and adults. The main focus of the film is forgiveness, making amends, doing what is right, and christian love.
I also found this great website ~ Christian Cinema (christiancinema.com) where you can view other family friendly movies, rent them and even purchase them. There are preview trailers and even a place where you can post your own comments or reviews on each movie. A great site for family movie night.
*I received a free DVD of this movie through Propeller for this review. All reviews are my personal opinion. See my Policy & Disclosure page for more info.