A collection of cute books for preschoolers
with short reviews by Susan (Loves 2 Read)

Are You My Baby by Kathleen Rizzi
Which baby is duck's baby? Or dog's baby? Or cat's baby? Lift each flap and you will see!
Toddlers will enjoy matching the pictures of each parent to its baby and imitating the sounds each one makes. With each flip of a flap, young readers can quack, woof, and meow their way right on to their Mommy, Daddy, or caretaker's lap for a fun-filled reading adventure.
ARE YOU MY BABY?
ISBN 978-1-59572-259-1
AVAILABLE 4/15/12
Review :
An adorable board book that will
keep your preschooler wondering who belongs to whom. Match up the cute animal parents and babies, and make the cute sounds at the same time. Teaches children matching, memory, animal recognition, sound recognition and more. Plus it is just plain fun to make silly animal sounds with little ones!


Who Lives Here by Kathleen Rizzi

Lift each flap and you will see where our animal friends live!

We share our homes with special animals—puppies, kittens, goldfish, or guinea pigs . . . . They are our pets and members of our families. With each flip of a flap, babies and toddlers will have lots of fun talking about and discovering pictures of each animal and its home within our home!
24 pages, 5"x5", ages 2-4
Board Book, $5.95
WHO LIVES HERE?
ISBN 978-1-59572-264-5
AVAILABLE 4/15/12
Review
:
A cute board book that shows matching of animals (pets) with their homes. Parents and their little ones will enjoy seeing who lives where in this cute book. Another fun way to spend quality time with your preschoolers and teach them that reading is fun.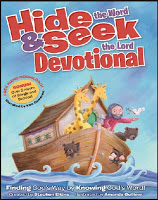 Hide & Seek Devotional by Stephen Elkins
Hide God's Word in your heart, and seek Him in your life!
Best-selling author and Grammy-nominated artist, Stephen Elkins, has created an exceptional product that includes everything parents need to get their children excited about spending time with God.
This book contains 52 Bible stories, devotions, verses, prayers, and a link for a free audio download of Scripture memory songs children will love singing along to. Narrated by Kirk Cameron, this full-length album reinforces the Bible verses and helps children commit them to memory.
Review
:
A fun and entertaining devotional for younger children. With short stories and adorable illustrations on each page, children will want to read more.
My youngest (age 4) loves the stories and was able to tell me about what we had read. She even memorizes a few of the "Hide the Word" scriptures included at the bottom of the devotion pages. We loved reading this before her nap-time daily, when it was just the two of us. It was her special devotion time without the big kids and she felt special having her own devotions to read.
As a mommy, I enjoyed this cute devotional for younger children. I like the short easy to understand stories, the three or four word scriptures that little ones can remember. To add interaction between the parent and child there are short sections after the devotion and scripture - "Seek the Lord" question and answer section, and "Pray to God," a prayer that relates to the devotion and the child can repeat after the parent when praying.
Available through
Christianbook.com
for $11.99 (ebook for $9.99)
or through
Amazon
for $12.23

*I received free digital copies of these books through Netgalley for this review. All reviews are my personal opinion. See my Policy & Disclosure page for more info.