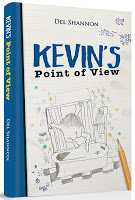 About Kevin's Point of View
Kevin Tobin is a relatively ordinary twelve-year-old dealing with the aftermath of his father's death. To escape his emotional turmoil, Kevin has developed his imagination into a dangerous foil and powerful ally. After a mysterious package arrives at his door, Kevin and his best friend are hunted down by a ruthless villain determined to retrieve the package, unknowingly spinning Kevin into a battle for control over time itself. Set in Boulder, Colorado, this imaginative story, appreciation for the powers of family ties, the desire of young boys to both escape reality and prove themselves within it, and the fast-paced, adventure-filled storytelling style make this a book with wide appeal for readers of all ages, especially those 8 years old and up.
About the Author and the Story Behind the Book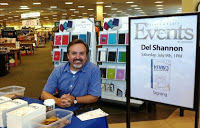 It's more than a little embarrassing to admit that I started writing Kevin's Point of View over 20 years ago. I'd planned to finish it much sooner of course, but life has a way of reminding you that you're not always in control. I was actually making great progress on the story until our 2nd child, and our only daughter, was born. A year after she joined her brother in our family my wife's arms started to tingle and not long after her symptoms started we learned she had multiple sclerosis. I love my wife (we've been married now for nearly 24 years) and so we faced this challenge together and made some hard choices. I focused my attention on providing for my family and set aside the manuscript. Some evenings, after everyone had gone to bed and the house was quiet, I picked it back and up and added bits and pieces, but mostly it just sat there.
Many years later, with our son in college, our daughter nearly graduated from high school, my wife doing a great job managing her MS, and my career as a civil engineer solidly established, I discovered I had a little more time to finish the story, which I did. Now the story has become a book – with a cover illustration taken from a thank you note mailed to me by a 6th grader – and is out in the world. So far the early reviews and feedback have been stellar.
I published the first edition of Kevin's Point of View for about $500 and the glowing reviews have given me the confidence to publish a second edition. This second edition will have many new things, including:
Professional cover, artwork and book design
A new acknowledgment section recognizing contributors
Increased promotion online, to schools, to libraries, and to brick and mortar bookstores
I'm also currently writing the sequel (I've finished three chapters) and I envision at least two or three more books in the series.
Kevin's Point of View is a fun adventure story that keeps readers, especially reluctant readers, turning pages. It's also a story of hope, the power of family, and using your skills and talents, whatever they may be, to overcome any obstacle. I hope you will work with me on this and future books featuring the indefatigable Kevin Tobin.
Through Kickstarter I'm hoping to fundraise and create a 2nd edition of Kevin's Point of View that will include:

A new cover and artwork
Reformatted book design
New reviews and

acknowledgment

sections
I'm also going to fund marketing efforts, time to write sequels, and so on. I'm trying to raise $4,000 in the next 30 days. The way Kickstarter works is people pledge funds for a set amount of time, but funds are only distributed if the total pledged amount meets the project's goal - $4,000 in this case - so it's important that all $4,000 is pledged within 30 days. In return those who pledge will receive anything from a thank you note from me to signed copies of books to being able to name a future character (depending on the amount of money pledged).
Here's the link to the project's page on Kickstarter -
http://www.kickstarter.com/projects/521319849/kevins-point-of-view
http://kevinspointofview.com/
*Post info provided by author Del Shannon and the Kevin's Point of View website: http://kevinspointofview.com/ ** Review by Susan coming soon**