I was given a wonderful opportunity to try out and post a review of Easy Lunchboxes. I was offered a set of containers and a cooler of my choice to try out for this review and an upcoming giveaway during the Mother's Day Giveaway Event coming May 1 - 18th.
My Review
: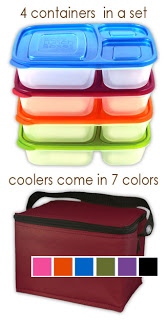 To go with the set of 4 lunchbox containers and lids; I chose the cooler in blue (so my son and daughters can use it without complaining that it's too "girly" or something - lol)
There are quite a few colors to choose from when selecting a cooler bag: Pink, Orange, Blue/aqua, green, purple, black and burgundy. Although I was personally drawn to the purple and thought the girls would love the pink, I thought the blue, since it is a light blue would be best for the whole family to use.
Josh ~ 10 yrs old: school outing
My son took his lunch to school using this cooler, one of the lunchbox containers - which fit perfectly inside the cooler - and a juice drink, bottle of water, and ice stick inside. He decided right before leaving to add a yogurt as well. There was still plenty of room to add it!
My son chose to take "nachos" in his lunch for his school outing. He packed the large section with tortilla chips, the next smaller with salsa, and the smallest with grapes.
*I forgot to get pics*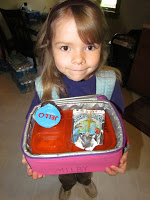 Allison 7 yrs old: school lunch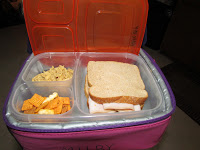 My daughter wanted to take her lunch to school, and chose to use one of the containers to put her food in. She used her own lunchbox/cooler with it. She packed a turkey & cheese sandwich, cheddar cheese snack mix, and baked chips in the container. Then added a juice drink and sugar free pudding on top. Everything fit nicely in her personal cooler lunchbag. She said it was a fun lunch! :)
More about Easy Lunchboxes:
The cooler can fit 2 of the containers with lids snugly inside with just enough room on top for a flat ice pack. Perfect for school lunches, work lunches, snacks on the go, or a fun picnic - Each child can pack their own, or 2 kids can share! Perfect for the whole family!
Each container has a large square area for sandwiches or larger items, and 2 smaller areas (1 slightly larger than the other) for fruits, veggies, chips, pickles, snacks or sauces.
My family really enjoys using the Easy Lunchboxes containers and cooler. My kids are already planning picnics in the near future using the containers for our healthy foods.
Want more info on how YOU can get your own set of Easy Lunchboxes and cooler bag? Check out the website:
http://www.easylunchboxes.com/
Find them on facebook:
https://www.facebook.com/EasyLunchboxes
YouTube:
http://www.youtube.com/user/EasyLunchboxes
Twitter:
https://twitter.com/#!/EasyLunchboxes
**And don't forget to come back in May for the Mother's Day Giveaway Event - One of the Prizes will be a set of containers and cooler of choice from Easy Lunchboxes!!!
*I received a free product as mentioned above through Easy Lunchboxes for this review. All reviews are my personal opinion. See my Policy & Disclosure page for the FTC guidelines
.