Taryn @ Mom of One and Having Fun
Think diapers. What are the first brands that come to mind? Pampers? Huggies? Luvs? Would you think of Seventh Generation at all? I'll be honest. It wouldn't cross my mind and it didn't. However, I was given the chance to review them and I figured "why not?" And I am EXTREMELY glad I did! I am totally in love with these diapers. My husband and I agreed, we are switching as soon as those
other diapers
are gone.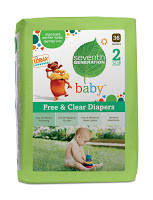 Why do I like these diapers? Well for one... none of my daughter's clothes got ruined while using them. Not saying that these diapers will NEVER leak, but they haven't for me. Two...
they're hypo-allergenic and that's important to me. Three... We love the tabs that hold the diaper together. Don't really know why or how, but they seem strong than the others.
The few things I don't like about these diapers? One... no line that changes color when wet. This is not the biggest deal in the world. If you can't tell your child is wet from the outside, they probably aren't. Two...The color is kind of brown. I know it's because they're bleach free. It's a little ugly to me, but however again, not a real problem. I really don't have any MAJOR complaints.
Another thing I like about these diapers: they are LORAX APPROVED.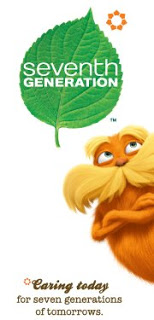 I love Dr. Seuss' The Lorax, which I also got to review. I hate to admit it... but this was my first time reading the story. I turned it into a great mommy moment. My daughter and I, got to read and hear The Lorax for the first time. Skylar, being only 3 months, obviously couldn't understand. However, she cooed at the
pictures
until towards the end, which I guess she got bored of mommy reading. (You try keeping a 3 month old entertained by reading... almost never works.) I did like the book and will be reading it to her as time goes on. I think the lesson is very important and my husband will say I'm the first to get mad when I see nature ruined. Love me or hate me for this, but I truly believe the human race has overpowered nature for far too long. I get mad when I see road kill. People assume that the animal got in the way, when really the road did. I get mad when I see new housing developments, when many houses are up for sale. What's wrong with the ones for sale? I don't know.
As the Lorax says "Truffula Trees are what everyone needs.
Plant a new Truffula. Treat it with care.
Give it clean water. And feed it
fresh air
.
Grow a forest. Protect it from axes that hack."
And
"Unless someone like you cares a whole awful lot,
Nothing is going to get better. It's not."
Well truthfully, I could go on forever on the subject but that would defeat the purpose of the review.
I truly am switching to Seventh Generation diapers. They also have many new products overnight diapers, diaper cream, bubble bath and more!
Some Great Facts:
Graphics featuring the Lorax
Premium Absorbency
Free of Chlorine Processing
Free of Fragrances & Latex
Free of Petroleum Based Lotions
Hypoallergenic
Want to try them? Here's your chance! One winner will receive one package of Seventh Generation Diapers in your child's
size
(Sizes are Newborn: up to 10 lb. Stage 1: 8-14 lb Stage 2: 12-18 lb. Stage 3: 16-28 lb. Stage 4: 22-37 lb. Stage 5: 27+ lb. Stage 6: 35+ lb.)
And The Lorax by Dr. Seuss
A great combination if you ask me! You get something for you (face it- diapers are for you, they save you money) and something for your child. Whether they understand it right now or not, it's a book that will last forever.
Enter on the Rafflecopter! (Please be honest with entries! I DO check!)