It's that time of year again, when bloggers host multiple giveaways. As a blogger who loves helping other bloggers, I am posting giveaways hosted by some of my blogger friends here, so you can enter all on one blog. . . For this giveaway, I have Abby from Mommy Moments with Abby providing a review and giveaway of Pambra!
Giveaway will run from April 3rd through April 17th. Read all the way to the bottom to find the Rafflecopter form to Enter!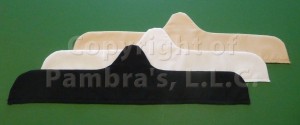 Mommy Moments with Abby's review of Pambra: I hate messing with wardrobe malfunctions and as a mom/daycare provider, honestly just don't have the time to deal with them so if it malfunctions, well it just stays that way unless obscene. Living in AZ this means that every crease in my body ends up showing via a sweat line on my shirt, it looks like one of the kids drew on me with water. Call me the walking fridge art of sweat.
So, given my issue, I felt it made me a perfect candidate to really test out a new product called Pambra. It basically fits between your skin and your bra. It keeps the bra from rubbing that specific area under the cup and nicely absorbs the sweat so it doesn't show on your clothes! So, I tested it out on a hike, running the day to day daycare stuff, and outside in 80 degree weather eating Pakistani spiced food. No, sweat lines for me! Everywhere else was another story, but it keeped the sweat off my clothes and bra and kept the bra from rubbing and making a line. My shoulders and back, well they got the bra line as usual, but Pambra wasn't covering there so it was expected. This is a great product for everyday use, under those nice silk dresses where you may get nervous or be in a crowd and don't want the bra line of sweat causing attention to an area that doesn't need more attention drawn to it plus taking from the beauty of the dress itself, or when it's just a hot day. It was comfortable and I actually forgot it was their until I was changing for bed and it fell on the floor and my husband asked what in the world it was. I told him and he gave me the man look, considered it, and then said, "Okay". Which I translated to mean it was a good idea, he tells me if he thinks I'm testing or wearing something that isn't. I highly recommend this product and give it 3 out of 3 clasps! Prom season is coming so I would grab one now!
No, I will not be offering pictures for this product given the nature of where it goes and is used for, you will just have to try it for yourself or trust me and get one for yourself. And you can watch this video of theirs to see how to use it:
Pambra's bra liners are soft cotton liners worn in the existing bra. The liners absorb perspiration under and between the breasts. Pambra's also add comfort to under wire and irritating elastic. Three liners one color to a package Dr. Recommended machine washable
Pambra's Two mastectomy styles are for women who have had mastectomies. These liners are used in Hospitals and sold in bra shops as well.
The TUMMY liner is patent pending as our newest product goes under the lower abdonimal fold of plus size people.
All our liners are Dr. Recommended, Lab tested and are the first of their kind. Pamela invented each of these products herself Since 1990.
I (Abby) received one or more of the products mentioned above for free using

Mom Blog Society. Regardless, I only recommend products or services I use personally and believe will be good for my readers.
Giveaway Starts on 4/3/2012 to 4/17/2012
*This is a guest post, not a personal review*