With
Mother's Day
right around the corner (and
My Birthday
as well), I have spent time emailing and coordinating with several wonderful sponsors for the Upcoming
Mother's Day Giveaway Event
, hosted by Makobi Scribe!
3 more of my wonderful sponsors are: authors:
Karen Pokras Toz, Penny Zeller & Ey Wade
Here is what these wonderful Authors are providing as prizes: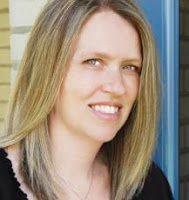 Karen Pokras Toz: 1 print copy each of Nate Rocks the World & Nate Rocks the Boat
Website:
http://www.karentoz.com/
Nate Rocks: Part Super-Hero, Part All-Star Athlete, Part Rock-Star… Part Fourth-Grader?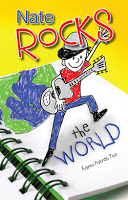 Ten-year-old Nathan Rockledge cannot catch a break. After all, life as a fourth-grader can be hazardous - what with science projects to deal with and recess football games to avoid. Everyone, including his best friend Tommy, seems to have bad luck when hanging around Nathan. Throw in an older sister who is a royal pain, a dad who is stuck in the past, and a mom who keeps trying to poison him with her awful cooking, and poor Nathan's life as a fourth-grader appears to be completely doomed.
Armed only with his sketchpad, his imagination, and his wits, Nathan Rockledge navigates the perils of the fourth grade in style, to emerge heroic, as Nate Rocks, proving that even a ten-year-old can accomplish great things.
Follow the adventures of ten-year-old Nathan Rockledge as his cartoons and adventures come to life.
The Adventure Continues...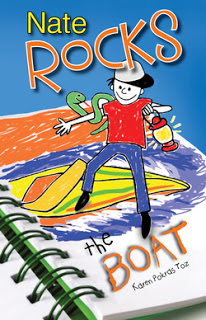 With fourth grade finally winding down, 10-year-old Nathan Rockledge is looking forward to a fun and relaxing summer at home with his friends. That is, until his mom decides he has to go to overnight camp with his annoying older sister. When his best friend Tommy decides to tag along, Nathan thinks maybe his summer won't actually be so bad. After all, he does get to be away from his mom's awful cooking for an entire six weeks.
Amongst Color War competitions, a flaky counselor, and a bully named "No-Neck," Nathan turns to his trusty sketchpad, transforming himself into Nate Rocks: 10-year-old extraordinaire. His speedboat ready for action, Nate saves the day time and again from the perils of floods, snakes, ghosts, and even the most wanted criminals.
Join Nathan, Tommy, Abby, and a whole new cast of characters as Nate Rocks once again proves nothing can hold him back.

Review of Nate Rocks the Boat will be posted on May 1st on Loves 2 Read!
Release Date: May 1, 2012

Penny Zeller ~ 1 Copy of McKenzie (book 1 in the Montana Skies series
Twitter:
www.twitter.com/pennyzeller
Desperate times call for desperate measures is the reasoning that also prompts Zachary Sawyer, a rugged rancher after God's own heart, to post an ad for a mail-order bride in various newspapers across the country. Managing a ranch and caring for his adoptive son, Davey, has become more than one man can handle alone, and Zach prays for God to send him a wife with whom to build a life and share his dreams.
When McKenzie arrives at Zach's ranch, she immediately puts her plan in motion, searching for her sister and doing all she can to keep her new husband from forming an attachment. But his persistent kindness and significant self-sacrifices begin to change her heart-and ruin her plans. God has a way of working things out to the good of those who love Him, though, as McKenzie will soon see.
To read My Review:
Click HERE