My Review of
The Redheaded Stepchild by Kelly Hitchcock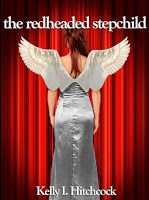 About the Book
:
Cady O'Donnell is The Redheaded Stepchild, the heroine without any grandiose heroic actions. In this disjointed collection of short stories, we follow Cady as she tries on every hat in the this-is-your-life store to see what fits and works best in the adventures she shares with her special head of hair. Each chapter acts a screaming independent connection between the most formative years of her life, as she meets, lives with, and loses one of the most influential people in her lifetime. Set in a rural community in Minnesota, The Redheaded Stepchild is an archetype of life in small-town America and a testament that the broken family is the new whole family, just as Cady O'Donnell shows how the unwanted stepchild can be a everyday hero.
My Review:
The Redheaded Stepchild is a well
written coming of age story. The characters are intriguing and the story is captivating. I enjoyed the author's detailed descriptions throughout the book. The relationships in this story are both entertaining and devastating. Although I couldn't put it down, I do want to say that is was a good read, but emotional as well. It reminded me of trying to read while on a roller coaster.
The story jumps back and forth in time, from the present to Cady's memories of the past. Though this could be confusing for some, it made sense in the story. She "remembers" her hurts and anguish, as well as the few positive highlights of her life. It was both interesting and frustrating to read at the same time.
If you like drama, female antagonists, chaotic family relationships and internal struggles, then this book is for you. If you are looking for a lighthearted, quick read, then lay this book aside for another time. It is not quick, nor lighthearted. Author Kelly Hitchcock is an author to watch. I look forward to seeing what she comes up with next.
This book can be found on
Amazon
for $2.99 (kindle) or $12.99 (paperback)
*I received a free copy of this book from the author for this review. All my reviews are my personal opinion. See my Policy& Disclosure for more info.