Dragon's Pupils Series by Martin Chushui
Dragon's Pupils - The Sword Guest (Dragon's Pupils Series Book 1)
Half-Chinese, half-Australian, Liz is not interested in her father's ancient Tao wisdom, or his cryptic tales. She is more concerned with environmental issues—particularly the plan to mine one of Australia's great landmarks, Wave Rock. Her father's latest gift, a Chinese calligraphy pen, seems set to take its place in her bottom drawer forever.
Then Wave Rock is blasted open by something more than a mining operation, and Liz finds that she must battle monsters from ancient times as well as creatures from other worlds, all intent on destroying Earth. She must call on all her powers, from both her Eastern heritage and her Western upbringing, to save her world. Her pen becomes her way into a new and magical world, and Liz discovers
she has powers—and allies—that she never could have guessed.
An exciting, fast-paced tale that combines the wisdom of ancient tradition with the pace of a Kung Fu movie and brings them to life in contemporary Australia, this exciting tale takes the best of two cultures and blends them to open up a new world of adventure and mystery.
Dragon's Pupils - The Peaks (Dragon's Pupils Series Book 2)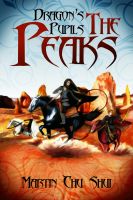 Powerful and invincible they ride across vast desert landscapes, hunting and slaying vampires under the cover of night. Jian Ke, the sword guests are more famous than ever! Admired by millions of TV fans around the nation as they pursue a life of action and adventure: a splendid tapestry depicting Liz, Henry and Sue at the top of their game. With her paintbrush in hand Liz is prepared to take on a hoard of vampires, an army of aliens and even her first kiss from the man of her dreams, Sue's handsome older brother.
Life couldn't be better until everything falls to pieces.
Liz must now face her biggest fears as the world she once knew slips through her fingers. No-one will be left untouched by the chaos which ensues. Armed only with her knowledge of Tai Chi, Liz must fight for what she has lost and begin the climb of her life. An unforgettable journey will take her to the Peaks.
"Dragon's Pupils – The Peaks," the second instalment of the Dragon's Pupils series, follows the drama of Liz's life as she fights monsters, wields magic and longs for forbidden love. It is a journey which will take you through Australia's most beautiful landscapes and ultimately witnesses the transformation Liz undergoes, as she rises to meet her latest challenge.
My Review
:
The books in the Dragon's Pupils series are an adventure to be sure. A different type of fantasy great for middle grade through YA readers.
Although both stories were pretty good, it took me a while to really get into them. I liked the characters, twins Liz and Henry bring drama to both books in a good way. I have to say of all the characters though, Liz is definitely my favorite. Overall, the second book was better than the first. Both were pretty well-written and the plot is unique. I like reading a fantasy that is different from what is out there today. . . instead of just romantic faerie, vampires and werewolves you get three tough fourteen year olds fighting strange monsters and learning about their Chinese heritage. A magic calligraphy pen and adventures that literally jump off the page! There were a few parts of the story that really didn't go along with what was happening. But, maybe it will make more sense in the next book. Overall, I thought the series was unique and entertaining. A good read for middle grade kids and older.
*I received a fee ebook copy of this story for this review from the author. All reviews are my personal opinion. See my Policy & Disclosure page for more info.