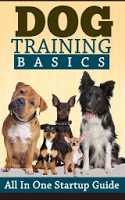 An All In One Start-up Guide on Dog Training
Discover which training method works best for you and your dog and how to properly train your pet.
In
Dog Training Basics - All In One Startup Guide
you will understand what dog training really is all about and how dogs actually learn. You will be able to discover which training method (e.g. Motivational, Electronic, Clicker etc) will best suit you and your dog. You will also learn about the basic dog training concepts that every dog owner should know such as Reward or Ignore. Standard commands that all dogs without exception should understand and follow and some house manners and essentials that will improve your life if you intend to keep your furry friend inside your home.
Here Is A Preview Of What You Will Learn...
Introduction to dog training and what it means
Choosing the right training method
Basic dog training concepts
Standard commands for every dog
House essentials for your dog
F.A.Q – Frequently Asked Questions
My Review
:
This ebook has basic instructions for how to train your dog to the main and most important commands that will help you have a well-behaved pet. I have already used many of these techniques with our dog Daisy, but there is one main behavior that we are currently working on, and this book has given me some great tips on how to correct this mis-behavior. She likes to jump up on visitors when they come in the door. This is a behavior we have tried to correct without success up until now. Though she has not completely stopped, with a few basic tips from this ebook, she responds more quickly to the command to get "down" and when ignored does not repeat the behavior. She is improving!
I like how easy this ebook is to understand and how it gives more than one way to train or correct your dog. I like the FAQ section and the explanations of different training methods, as not every person or every dog will prefer only one technique. It is a great tool to have on hand for any pet owner!

Disclosure: I received free the item(s) mentioned in this post in exchange for my honest review using Tomoson.com. Regardless ~ All my reviews are my honest and personal opinion.
I am disclosing this in accordance with the Federal Trade Commission's 16 CFR, Part 255: "Guides Concerning the Use of Endorsements and Testimonials in Advertising.".