Design your own Custom T-shirts with
Whoop Tee
! A super fun way to spread the word about your Website, Store, Products, Brand, Blog or just for fun! I put my blog information on mine and this is how it turned out! Now I am a walking Advertisement for Mom Loves 2 Read! And, guess what - you can be too! Whoop Tee Designs has offered 5 of these custom T-shirts to my fun and faithful blog followers . . . that means YOU! A free T-shirt - and you can help promote Mom Loves 2 Read just by wearing it!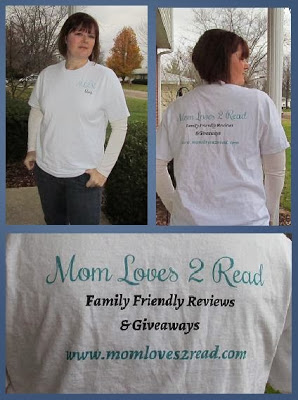 I love how comfy this T-shirt is. I have a few new ones that are scratchy, but this one is made from 100% cotton, quality T-shirt and is made to last. The printing looks like the shirt was made with it already there - not a press and iron-on but quality dyed on so it will last with each and every washing.
Whoop Tee
has a wonderful Design Tool that made it simple and easy to create my shirt design. With lots of graphics, fonts, and colors to choose from - and a tool to move the design around to the exact perfect spot on the shirt. You can choose from a variety of shirt styles, colors and even ready-made design elements to create the perfect shirt.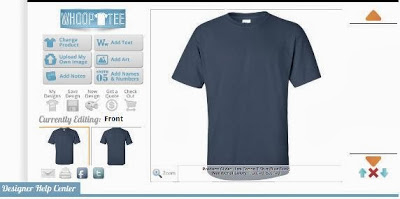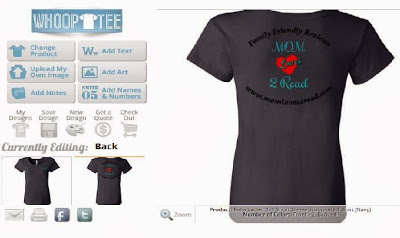 AND, when done - a preview of it on a shirt to see if it looks just as you imagined. In some cases you can even re-create your "Favorite T-shirt"
Like what you see so far? Want one for your own?
Well, I have Good News - you can win one of mine right here on Mom Loves 2 Read! 5 readers/followers will win my logo shirt for their own - winner's choice of size!
Sorry All, but the sponsor is no longer offering the giveaway.
Check out their Design Tools and how you can create a shirt of your own on their website.

Disclosure: I received free the item(s) mentioned in this post in exchange for my honest review. Regardless ~ All my reviews are my honest and personal opinion.
I am disclosing this in accordance with the Federal Trade Commission's 16 CFR, Part 255: "Guides Concerning the Use of Endorsements and Testimonials in Advertising.".