With all the wonderful children's books I review and promote here on Mom Loves 2 Read, I could not pass up the opportunity to provide my readers with a Holiday Gift Guide Special Giveaway of Children's Books!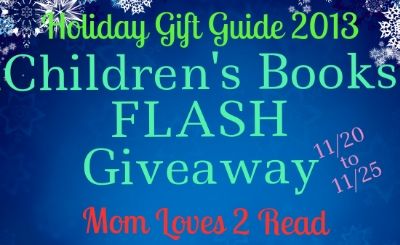 Some amazing authors have provided print and ebook copies of their books for kids just for the readers and followers here on Mom Loves 2 Read - For this Holiday Special Giveaway
I have personally reviewed each of these books and they are all wonderful to read. Most of them are family favorites and a few of them my children have also reviewed!
-The following books will be randomly awarded as prizes to 6 different winners - Each winner will receive at least 2 books/ebooks randomly chosen from these books:
Can't Wait Willow
- 1 Print Hardcover Book - US/Can only
Sticky Icky Booger Bug
s - print book (US/Can)
Winner's Choice of
Nate Rocks
ebook - 4 winners - (World Wide)
Milicent Marie
ebook - 2 winners - (WW)
GreystoneValley
- 3 Print (US only) & 3 ebooks (WW)
Roly-Poly Monster
- print (US only)
**Share Bonus ~ $10 Amazon/BarnesNNoble GC
**
Only those who share this giveaway can be entered to win this Bonus Prize - see the optional entry on the giveaway form - can be done daily - each URL must be a new and unique share - will be validated before winner is chosen!
Bonus prize will be in addition to the book prizes listed above
- 5 winners will receive books
- 1 will receive books AND giftcode bonus prize!
FLASH Giveaway will run from 12am CST on 11/20 through midnight on 11/25
this will be a short giveaway so make sure to enter - and share with your friends so they can enter too!

Disclosure: Mom Loves 2 Read is host of this giveaway - All Prizes will be awarded by individual sponsors, and Mom Loves 2 Read is not responsible for prize shipment in any way. Giveaway is not associated with any social media outlet.
I am disclosing this in accordance with the Federal Trade Commission's 16 CFR, Part 255: "Guides Concerning the Use of Endorsements and Testimonials in Advertising.".