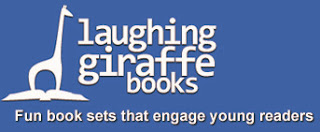 Why Laughing Giraffe Books?



When purchasing a book set for children through Laughing Giraffe Books you are instilling the love of reading in the child you are gifting the books to. Does the idea of a beautifully wrapped, well-selected collection of books appeal to you? Do you find it overwhelming trying to select the perfect books from among the myriad of available titles? Then keep reading to learn more about why these carefully selected book sets for kids are perfect for you, and why Laughing Giraffe Books is heads and shoulders above their competitors.

Some great features that set them apart from the Competition: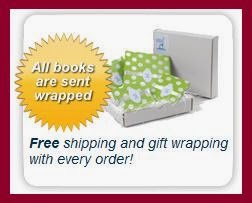 All of their collections are built around kid-friendly themes
The books are hand selected by experts
All of their collections arrive gift ready and ship for free!
With over 80 Different Book Sets, there is something for every reader in your family. And, you can choose from one box full of individually wrapped books, OR a book sent each month as a new fun surprise to unwrap over and over! AND you get FREE shipping, FREE gift Wrap and a wonderful gift that keeps on giving - what more could you ask for?
For this review, I chose the "and all things nice" set of books for my two girls:
About "AND ALL THINGS NICE"
This collection is a great introduction to some of the most memorable heroines in children's literature. Meet an energetic piglet, precocious hotel-dweller, future presidential candidate, pink-loving youngster, and brave seamstress' daughter among other. And All Things Nice is guaranteed to entertain and delight little girls everywhere.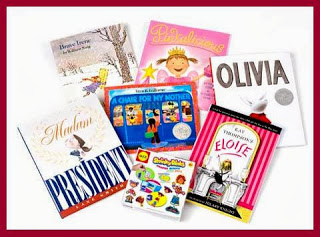 THIS BOOK SET FEATURES:
♦ 6 high quality, hand-selected books
♦
Free gift wrapping and
shipping
♦
A choice of gift set
or
book of the month delivery
INCLUDED BOOKS:
Olivia by Ian Falconer (Hardcover) • Brave Irene by William Steig (Paperback) • Eloise: A Book for Precocious Grown Ups by Kay Thompson (Hardcover) • A Chair For My Mother by Vera B. Williams (Paperback) • Pinkalicious by Victoria Kann (Hardcover) • Madam President by Lane Smith (Hardcover)
My Review:
This is one of my favorite things to review - children's books! I love seeing the joy on my kids' faces when a book they love arrives, and the excitement as I catch them reading quietly in their rooms instead of playing computer games, electronics or arguing with their siblings. It makes for a peaceful time for me as Mom, but also I love that they are using their minds and imaginations as they travel to other worlds with the characters in books.
The books come individually wrapped like beautiful gifts
Each of my girls got to choose
one wrapped book to open and keep
Alli ended up with "Brave Irene" a book she has never read before - so exciting!
Lydia got "Olivia" - and is super excited
she saw this one in her school library and could not wait to start reading it!
My girls were super excited when they each got to open a new gift and found a fun new book to read! They really loved getting to unwrap a surprise book. I love how pretty the wrapping is, how fun it is to receive a new book as a gift, and the joy they each have when getting to read their new books.
Laughing Giraffe Books is a fun and fantastic website where parents, grandparents, aunts, uncles or anyone can purchase a fun set of books to send as one large gift like for Christmas or Birthdays, or send a gift each month - one that keeps giving all year long.
There is a large selection of book sets available for most children's reading levels - you can shop by age, gender, or even special occasions - books can be wrapped as baby shower gifts, back-to-school, birthday, holiday, or everyday - book sets start from under $60 and go up to over $200 depending on how many books you want and how you want them sent.
Check out this wonderful gift giving option for the coming Holiday Season! And don't forget to enter the GIVEAWAY - for a chance to win this exact same book set - valued at $90!
Open to US residents only - must be 18 or older to enter/win.
Winner will have 48 hours to reply from email sent (momloves2read@itv-3.com) - it is up to you to make sure you can receive emails from this address - check this post or your spam mail! Giveaway runs 11/24 - 12/8 - winner will be notified on 11/9!

Disclosure: I received free the item(s) mentioned in this post in exchange for my honest review from the sponsor - Laughing Giraffe Books. Regardless ~ All my reviews are my honest and personal opinion.
I am disclosing this in accordance with the Federal Trade Commission's 16 CFR, Part 255: "Guides Concerning the Use of Endorsements and Testimonials in Advertising.".