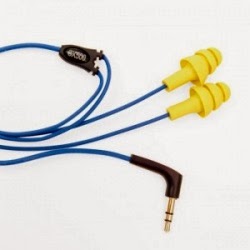 Plugfones
are great for workers in factories or noisy environments, by
preventing hearing loss
while also allowing you to listen to your favorite audio.
Plugfones also work great for race fans who want to tune into the action at the track without cranking the volume on their regular headphones too loud. These earplug earphones act as hearing protection headphones or ear protection headphones to ensure hearing loss prevention. I can't wait to try them at the upcoming Monster Jam - Monster Truck Rally - now that is NOISY!
Plugfones
are perfect for any place where there will be a lot of noise, like when mowing the lawn, vacuuming or just to block out noise while getting laundry done around the house.
Plugfones
are
earplug earphones
that provide
hearing loss prevention
while still being
awesome headphones
.
They do cancel out quite a bit of noise and definitely fit like earplugs. They are contoured in such a way that they do not slip out once they have settled inside the wearers ears. Now I personally am not fond of the feeling that earplugs give me - and the weird noise and sensation when they are expanding in my ears is kind of icky to me, but I have used them quite a bit to protect my sensitive ears from loud noises.
These earphones do work better than other types that I have at blocking outside noises, but they do not block out all noise. They are pretty comfy once in and are easy to use. My son took them from me and won't give them back. He says they are his favorite earphones to use with his ipod or DS game system, so I guess that is another positive for these earphones. Overall they work they way they say, and are pretty comfortable to have in for long periods of time.

Disclosure: I received free the item(s) mentioned in this post in exchange for my honest review using Tomoson.com. Regardless ~ All my reviews are my honest and personal opinion.
I am disclosing this in accordance with the Federal Trade Commission's 16 CFR, Part 255: "Guides Concerning the Use of Endorsements and Testimonials in Advertising.".