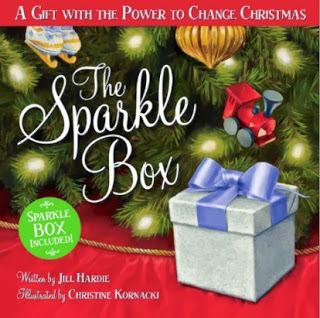 About The Sparkle Box - A Gift with the Power to Change Christmas
Sam is so excited about Christmas! He's thinking about his Christmas list, looking forward to holiday parties, and puzzling over one very mysterious gift: a sparkly box sitting on the mantel. In the midst of the festivities, Sam and his family participate in various acts of kindness to others.
On Christmas morning, when Sam finally opens the Sparkle Box, he finds only slips of paper that record the family's good deeds. Sam's mom explains that the things that they've been doing are, in fact, a gift for Jesus, for Jesus said that whatever we do for those in need, we do for Him.
Book Trailer:
My Review :
This amazing story is one that will now be a new family tradition mixed with an existing tradition in our home. My children have an empty giftbox that we keep under the Tree - they can make cards or notes to put inside for Jesus' birthday throughout the time from Thanksgiving through Christmas Eve when we celebrate Jesus' birthday by reading the notes & cards and having a Birthday Cake for him - yes complete with candles and singing!
Now, we will use the Sparkle Box (included in the book) in place of the wrapped empty box - and will include this story along with our other favorites up through New Years' Day. I love the idea of adding notes about every selfless act or word of kindness that my children do. I love the theme of the Sparkle Box and my children have already asked if they can also put notes in when Mom and Dad do nice things too. This is an amazing story - well written with wonderful illustrations. I love the sparkles on the cover and the detail in each picture that coordinates perfectly with the story. Another amazing book to add to our ever-growing bookshelves!
Author Bio
Author Jill Hardie and her family began placing a gift for Jesus under their Christmas tree as a way of bringing more meaning to the holiday. The first time they opened His gift, the commercialism of the season melted away and they felt a profound joy and peace. Jill hopes that The Sparkle Box will spark a new Christmas tradition, bringing light into thousands of lives.
Illustrator Bio
At a very early age, Christine Kornacki developed a love for painting and bringing stories to life. After receiving a BFA in illustration from the University of Hartford, her dreams of illustrating children's books began to take shape. She spends her days painting in her studio, which adjoins a charming cafe in New Haven, Connecticut.
Time for a Giveaway
Winner must be 18 yrs or older
Open to US & Canada unless prohibited by law.

Disclosure: I received free the item(s) mentioned in this post in exchange for my honest review. Regardless ~ All my reviews are my honest and personal opinion.
I am disclosing this in accordance with the Federal Trade Commission's 16 CFR, Part 255: "Guides Concerning the Use of Endorsements and Testimonials in Advertising.".