Glasstic Glass Water Bottle
is perfect for all of your favorite beverages.
It keeps your drinks free from plastic by having a glass bottle insert, but has a strong outer layer of plastic to keep it from being easily broken if dropped. It is a great new design for on the go, around the house or anytime you need to have a cold drink handy.
Need more reason to choose Glasstic? How about these great reasons . . .
It is Shatterproof:
Designed with a glass insert on the inside of a
durable
plastic outer casing that helps protect from breakage while providing containment and shatter proofing even if the glass does break. Our customers love that we offer glass insert replacements for the life of the product for just the cost of shipping. This encourages reuse.
I personally use mine all around my home, in the car, on the go and any chance I get. I love this new style of travel bottle - much better than plastic ones!
Safe & Pure:
contains a 16oz pure glass insert on the inside where your liquids are and a BPA Free Plastic outer shell around the glass to provide durability and containment.
No risk of bad chemicals leaching into your water or beverage.
Clean:
Product can be easily disassembled and cleaned manually or in the top rack of a dishwasher.
It really is easy to clean!
Temperate:
Double layered protection with a space between the glass and plastic which provides for total condensation protection and some additional insulation for your beverage. Won't make a mess on your wood table!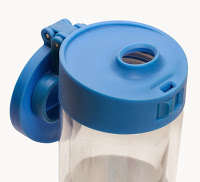 Doesn't sweat as much as other travel containers and still keeps my drinks cool and ice lasts a long time!
Easy to Use:
Leak-proof flip cap lid to "drink on the go" and a safety lock to prevent accidental opening & leakage.
My only issue with the cap, is that I have to drink from it sideways - The opening is a little wide for my liking, but easily remedied by drinking from the cap on the side instead of directly from the front. But that is my personal issue - most people might not mind the wide oval opening.
Portable:
The easy to carry handle & protective casing makes it perfect for...
Pools & Waterparks
Beaches & Lakes
The Golf Course & Other Sporting Events
Gyms & Yoga Studios
Schools
Walking, Pushing Strollers, And any other On the Go needs - It also fits perfectly in all my car's cup holders which is a major plus for me! As a busy on the go mom, I take drinks with me in the car frequently - and drinks that fit in the cup holders are always a must for my family!
For more information and to view a Demonstration Video of the Glasstic Shatterproof Glass Water Bottle please visit
www.glassticwaterbottle.com
.
Need more of a reason to check out this great new drink container? How about my personal recommendation? It is easy to clean, comfortably fits in my fingers when walking, fits great in car cup holders. Keeps my drinks cold and ice cold for long periods of time. Is fun to use, easy to clean in the sink or dishwasher. AND, mostly - I love the fact that my drink is not touching plastic, but glass - and it is reusable over and over and over! Saves hundreds if not thousands of plastic water bottles that I often have in my fridge!
Still need more convincing? Worried about the glass insert breaking? Don't! IF it breaks, take it apart carefully and discard the glass. Wash and carefully dry all the remaining parts - then contact the company for a glass insert replacement - it is only $7.99 (includes shipping!)
What are you waiting for? Check it out!
Mom Loves 2 Read followers can use this great code to get 15% off from Amazon.com ~ Amazon Coupon Code:
9GE47TZC
Would make a great Christmas Gift! Would even fit in deep stockings!