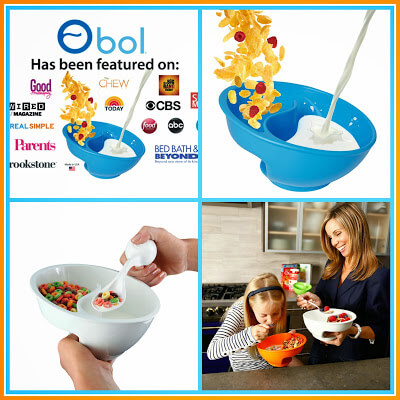 Since I know that many of my readers love Giveaways, I have offered to help promote some from my fellow bloggers this Holiday Season. Here is one that is great for the whole family to try - and why not? You can enter for a chance to win one right here on Mom Loves 2 Read . . .
Obol is a new bowl that solves the soggy cereal dilemma.
Most cereal bowls are not designed to be held. They are slippery, awkward and not designed for the hand. They have no grip area. There is a reason for this...the perfect bowl is not easy to design or manufacture. Size, volume and molding constraints are very challenging. The Obol is the result of two years of design work using 3D CAD solid modeling to produce the perfect bowl that finally ends soggy cereal. In fact, the Obol is so unique, it has been issued two US patents. It is the perfect size, easy to hold, easy to clean and will not break. It is so easy, all you do is Swoop n Scoop®
.
Manufactured in the USA. BPA Free. Dishwasher safe.
See my full review HERE
Facebook / Twitter / Youtube
Enter to win your very own Obol - the Original "never eat soggy cereal again" bowl.
Entry
-Form
Diclosure: This giveaway was set up and promoted by The Stuff of Success blog. Mom Loves 2 Read is in no way associated with the sponsor or product and has no control of this contest.