FRIDAY- DROP!Come dressed in your favorite Costume for this fun for all Drop Night at Inspired Arts Academy!
It's Halloween Throwback night at IAA with City Dance superstars!
KIDS- Listen to spooky music, learn
'thriller' under the strobe lights, make spooky night scene art, play Halloween games, come dressed in your Halloween costume, and watch Shrek's Halloween!
SUPPORT CITY DANCE- City Dance is a non for profit organization committed to changing lives through dance and arts mentorships in the heart of Illinois.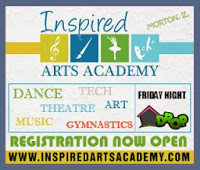 Disclosure: Mom Loves 2 Read and Inspired Arts Academy have a swap partnership.
I am disclosing this in accordance with the Federal Trade Commission's 16 CFR, Part 255: "Guides Concerning the Use of Endorsements and Testimonials in Advertising.".