How do we do it?
Top quality designer underwear sells for 10 times what it costs to make. By eliminating brick and mortar stores, retail middlemen and brand licensing fees we can pass the savings to our customers and deliver top quality underwear right to their door.
Why we do it?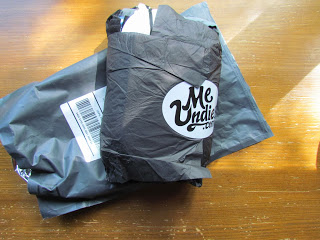 Our goal is to create a company that delivers comfort, convenience and affordability. We believe that there should be an easier, less expensive way to buy essential basic apparel.

We also think that there isn't a company out there that does it all well. Right now, the best t-shirts, socks and underwear are made by three different brands. We have started by making the most comfortable underwear and strive to be the first full service basic apparel company that makes each product the best on the market.
For this review
, My son and I both received some new undies and comfy t-shirts and a pair of socks to try. Of course being a family friendly site - I won't take pictures of us in our undies but will gladly let you know all about them! For my son - we have
Boxer undies
in a cool shark print, a pair of fun
striped socks
and a black men's t-shirt . .
For me - I have a
V-neck women's Tshirt
, Fun and Flirty
women's brief
in Raspberry, and a pair of white socks to tie it all together.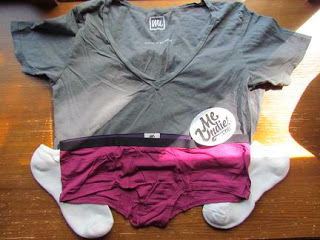 Now, for the
honest review
- well the tshirts are so very comfortable, they are sort of form fitting, soft and lightweight, made of 100% cotton and very comfortable to wear anywhere - around the house or under another shirt to go out.
The undies - I absolutely LOVE these briefs - they are the MOST comfortable undies I have ever worn - no lie. I have a variety of brands that I have tried over the years from several different stores (including that VS one) and these are definitely my favorites. They are silky smooth, comfortable, soft and fitted and when I wore them under jeans I honestly forgot I was wearing undies yet felt so covered and comfortable. It was a wonderful feeling.
The socks are thick and soft - with a stretchy portion in the middle to fit many different foot sizes. Unfortunately I'm not fond of no-show style so I passed these on to my daughter and she loves them!
My son likes his boxers - they have a special additional fabric added to that all-important area for boys and men (keeping it G rated - lol) They are very soft and comfortable to wear and he loves how they feel when worn. The Tshirt also is a big hit - he wears it as a night shirt and loves how soft it feels. The socks are worn for church and he had two friends give him complements on how "cool" his socks are.
MeUndies
is a new favorite in my home. Hope you check them out too - they might become your new favorite as well!
Website
~ https://www.meundies.com
facebook
~ http://www.facebook.com/meundies
twitter
~ https://twitter.com/meundies
pinterest
~ http://pinterest.com/meundies/