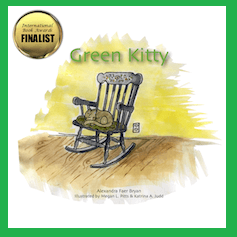 Called a book for all ages, Green Kitty was written for children ages 8 to 12 to help explain Alzheimer's disease and dementia, and is both entertaining and educational. It was a finalist for both USA Book News "Best Books 2011" and "International Book of the Year 2012" in children's fiction, and is filled with true, laugh-out-loud animal antics. Green Kitty will please any child who loves their pets and parents will enjoy
reading it out loud to younger children.
It is a collection of stories within a story with a grandmother that recalls old anecdotes, mostly about family pets, for a visiting grandchild. The grandmother has recently been placed into assisted living due to her dementia and their bond grows stronger through the visits despite the illness. Helpful information about Alzheimer's disease is deftly woven into the work.
Green Kitty will capture the imagination of both boys and girls. Overall the books shows what true family love is all about.
My Review :
As a nurse I personally worked with men and women that were struggling with Dementia. Whether as a resident of the Nursing Home I worked in, or as family visiting a loved on with Dementia or Alzheimer's. I also lost a loved one a few years ago who was suffering with early onset of Alzheimer's and had dealt with dementia for several years prior to her diagnosis. As a family member, it was difficult to have her repeat herself often within a short period of time, but thankfully I never personally had to deal with an episode where she did not know who I was.
As a Reviewer, in reading through "Green Kitty" I was able to empathize with the young child in the story with the concern for the Grandmother's failing health. I loved getting to read through the Grandmother's memories and stories. It reminded me of all the wonderful stories my Grandmother told me over the years and in more recent years repeatedly before she passed away.
I love that this story is a wonderful way to help children understand Memory Loss, Dementia and Alzheimer's and how it not only effects the person affected, but the family and friends as well. It can be difficult to understand how a person we love no longer functions in the way we expect them to, but we can still be kind, loving and patient with them and show them love and support.
One issue I had with this story is that it is written for older children, as there are issues dealt with that younger ones would not understand. Also, I found that it does need some editing to smooth out some of the sentence mistakes and grammar problems. There were quite a few times that a wonderful story was interrupted for me by an incomplete or mistyped sentence or phrasing that did not flow or quite make sense.
I loved the few scattered illustrations and would have loved to see more. I think it would appeal more to the 8 to 12 age range with a few more fun illustrations to go with each chapter/story. Finally, with some minor editing this would definitely be a 5 star book!
Connect with the author:
Website:
http://www.greenkittybook.com

Disclosure: I received free the item(s) mentioned in this post in exchange for my honest review. Regardless ~ All my reviews are my honest and personal opinion.
I am disclosing this in accordance with the Federal Trade Commission's 16 CFR, Part 255: "Guides Concerning the Use of Endorsements and Testimonials in Advertising.".