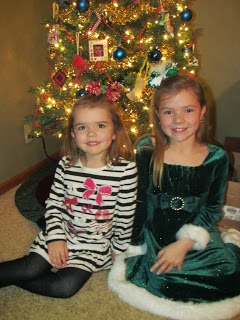 Christmas 2013 was a wonderful time for family and friends to gather together, sharing food, love, conversation and just enjoying being together in one place. For our family, Christmas Celebration begins with the Advent Services each Sunday leading up to Christmas. Seeing the lighting of the Advent Candles at church gets my kids excited about lighting them in our own home each Sunday.
They learn more about the events leading up to Christ's birth and the reasons why we Celebrate each year. Although we love the beautifully decorated trees, seeing the lights on many houses around town and finding lots of wrapped presents under the tree on Christmas Morning, we try to remember and Celebrate the Reason for Christmas each year with special traditions.
My children's favorite
tradition is opening gifts on Christmas Morning of course - lol. But, before all that -
we have our own tradition of putting up the artificial Christmas Tree (sorry, allergic to real ones) and decorating it after Thanksgiving. Each child has his or her own box full of personal ornaments to hang on the tree. Some were made at school or church - a few were made at home as fun craft projects - and some were given each year as gifts on Christmas Eve or Christmas Day to add to each child's precious collection.
This Christmas Eve - each of my children received another new ornament to hang on the Tree . . .
My girls both love the movie "BRAVE" so I was excited when I finally found Merida ornaments for them this year.
And my son loves to collect "STAR WARS" ornaments, and I was happy to finally find a Yoda ornament for him to add to his collection.
Another fun tradition each year for our family is Celebrating Jesus' Birthday. My Children remind me each and every year that we have to make a cake for Jesus' Birthday Party - we usually celebrate Jesus' Birthday either Christmas Eve at dinner or after lunch on Christmas Day with a birthday cake - yes, with candles - we sing Happy Birthday and the kids blow out the Candles. There are usually gifts for Christ under the Tree each year and the kiddos will make cards and hearts to put inside them for Jesus.
I love how my children enjoy each of our family traditions and how excited they get when we celebrate each year.
For next year, I may have to find a new Christmas Tree as ours is held together in a few spots with duck tape - lol. And, as a prelit tree - one area near the top has never lit up so our next tree will not be a prelit! I am looking at
www.kingofchristmas.com/
since they have a great SALE going on right now to see if they have any trees that might fit in my home - I really like the look of the Scarlet Fir - it looks just like a real tree!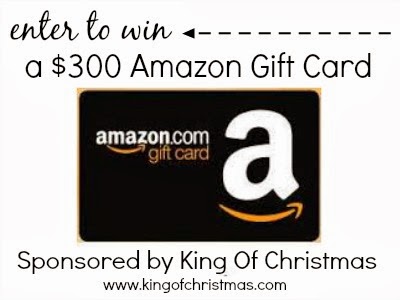 King of Christmas has several artificial trees that look just like the real ones - and to showcase this great sale, they are sponsoring a nice After Christmas Giveaway! Such a nice thing to do - check out the current sale at King of Christmas, then come back and enter the giveaway they have kindly sponsored.
The Prize is a $300 Amazon.com Giftcode and is open World Wide.
The Giveaway will run from Saturday 1/4 through Sunday 1/12 midnight MST
Entries will be validated before winner is chosen. Entries are optional but must be completed honestly in order to win. Must be 18 or older to enter/win.
a Rafflecopter giveaway

Disclosure:
Mom Loves 2 Read is partnering with other blogs to post and promote this great giveaway. Mom Loves 2 Read is not responsible for Prize, Rafflecopter or any other information directly related to the giveaway. All questions should be directed to the sponsor or host blogger.
All other personal information in the post above is mine alone. I am disclosing this in accordance with the Federal Trade Commission's 16 CFR, Part 255: "Guides Concerning the Use of Endorsements and Testimonials in Advertising.".