This week, the
Christian Fiction Blog Alliance
is introducing
Songs of the Shenandoah
B&H Books (January 1, 2014)
by
Michael Reynolds
ABOUT THE BOOK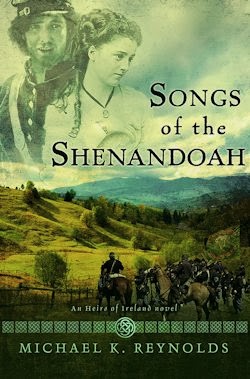 At the onset of the Civil War, Seamus heeds his wife's wishes to return to her beloved family farm in the South, where he takes a post as chaplain for General Stonewall Jackson's brigade. As Seamus ministers to the troops, his sister Clare ministers in a different way—by being a powerful voice in the Northern cause toward freeing the slaves. All this while their youngest brother Davin, who became wealthy during the Gold Rush, struggles to find love and identity in a fallen world. It's a clash of loyalties and beliefs that threaten the entire family, each of them
trying to hear God's encouragement in the midst of the tragedy of war. The dramatic conclusion to the acclaimed Heirs of Ireland Series.
If you would like to read the first chapter of
Songs of the Shenandoah
, go
HERE
.
ABOUT THE AUTHOR:

Michael K. Reynolds is a writer with more than two decades of experience in crafting fiction, non-fiction, journalism, copywriting and documentary production. He is the author of a series of Irish historical novels published by B&H Publishing Group. These highly acclaimed books are available in bookstores and libraries across the nation and beyond.
Michael is the writer and producer of an Emmy and Telly award-winning series of documentaries titled, Crystal Darkness. These thirty minute anti-meth films have been heavily promoted and broadcast in cities and states throughout the United States and Mexico. They have been viewed collectedly by more than 10 million people and the message has reached more than 30 million to date.
He also has wide experience as a speaker and on-air personality and has been interviewed on a variety of newspapers, radio stations and televisions networks throughout the nation. Michael earned his B.A. in Creative Writing from the University of California, San Diego and lives in Reno with his wife and three children. He is active in marketplace, marriage, small group and men's ministries as a leader and speaker.

Disclosure: I did not receive any form of compensation for posting this information.
I am disclosing this in accordance with the Federal Trade Commission's 16 CFR, Part 255: "Guides Concerning the Use of Endorsements and Testimonials in Advertising.".