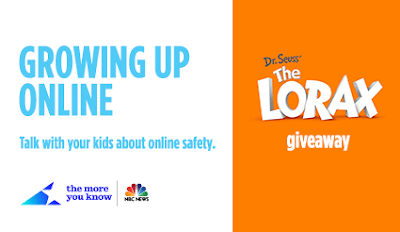 We live in an exciting new world of sharing information, more so than ever before, but this is not without its challenges! Our children are growing up in a Cyber World where technology is expected as a necessity instead of a reward. Although Technology has it's good points, there are also dangers that we as parents need to make sure we are guarding our children from and teaching them ways to deal with . . . one is "cyber-bullying." We know the pain it can create. Far too often have we heard the stories of children being cyber-bullied who don't know what to do or where to turn.
Even my son's Boy Scout Troop is planning to teach the boys about ways to be safe while using technology. I personally will be teaching this lesson, so this giveaway is a great reminder for me to keep cyber safety at the front of my mind.
~~~**~~~
Download the FREE Growing Up Online eBook and be sure to watch all four entertaining comic book stories as a family. These stories show real situations that may occur when your kids go online.
This free eBook provides easy-to-use information that addresses the growing concern about kids' online privacy and cyber-bullying in a unique and engaging way. Growing Up Online is packed with important tips that every parent should know!
~~~**~~~
Check out the fun app below from Growing Up Online it includes:
• Is Your Child Internet-Ready? QUIZ – Have you talked with your kids about online safety? Take the quiz to find out if your child is Internet-ready!
• Comic Book Videos – Watch all four comic book stories as a family to discuss real situations that may occur when your kids go online.
• DOWNLOAD the FREE eBook – Our kids have never known a world without the Internet. But that doesn't mean they know how to behave online. Download the free eBook and start a conversation with your kids.
~~~**~~~
One Mom Loves 2 Read follower will win a copy of Dr. Seuss' THE LORAX DVD & Blu-ray Combo Pack. Enter using the Giveaway Form Below
Open to US & Canada
Must be age 18+
No PO boxes please.
If you like the giveaways like this here on Mom Loves 2 Read, please consider leaving a comment below letting me know - have a favorite product or book you would like to see featured? Comment or Email me and let me know - I'm always on the lookout for new and exciting books and products to share with my readers!
Thanks for Stopping By!

Disclosure: All info in the above post was received from Growing Up Online through PartnersHub - I received no compensation for posting this giveaway.
I am disclosing this in accordance with the Federal Trade Commission's 16 CFR, Part 255: "Guides Concerning the Use of Endorsements and Testimonials in Advertising.".