Welcome to Mom Loves 2 Read
My CFBA Review book of the week is
Threads of Change
by
Jodi Barrows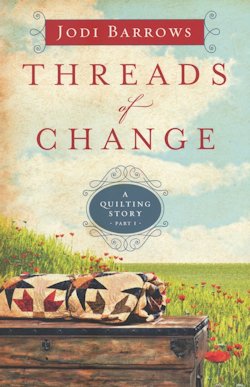 ABOUT THE BOOK
Conflict develops in the South,
Four granddaughters travel into uncertainty,
And Grandfather sells their precious home.
In the first book of A Quilting Story series, the four cousins-with social graces, charm, and a love for quilting-will face the anguish of life on the frontier in 1856 with every turn along the wagon trail. Raging storms and adversities hit the small band of travelers. Relieved to finally arrive at the abandoned military post at Fort Worth, Texas, they begin the hard work of establishing a new home. When trials follow them, they must decide to become true warriors of their hearts, minds, and souls or fall to the sufferings of prairie life.
Join the four women on a passage of friendship, love, and self-discovery as lives are mended around the quilting frame.
If you would like to read the first chapter of
Threads of Change
, go
HERE
.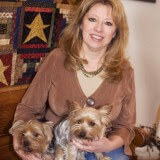 ABOUT THE AUTHOR:
Over the past twenty years, Jodi has remarkably touched thousands of quilters throughout the world with her unique method called Square in a Square®. Her point of view provides the quilter with the freedom to create most any quilt design with speed and accuracy.
Jodi has spoken to quilting audiences throughout the United States, Canada, Australia, Italy and S. Africa. She has appeared as a guest on several quilting shows, including TNN's Aleene's Creative Living, TNN's Your Home Studio, Perfecting Patchwork on Family Net TV and a pbs series with Kaye Wood.
Jodi was raised in southwest Kansas, has two grown sons, and is married to Steve, her high school sweetheart.
My Review
:
When I was offered a chance to review this book through Christian Fiction Blog Alliance, I was excited. I love western romances that have a great story, historical significance, as well as unexpected twists and turns. This book does not disappoint. Each woman's experience along the way, and how they each deal with the unexpected was well-written and believable.
The overall story is about the four women, two sisters, one a widow with a young son; their two cousins, and their grandfather. They travel in a wagon train to Texas to try to make a new life for themselves. The grandfather has some of his hired men accompany them which of course adds to the romantic and not so romantic moments in the story.
The book starts out a bit slowly, then picks up the pace after the first few chapters. Though it was mostly predictable, Threads of Change is an enjoyable story that is well worth reading. I am looking forward to the next book in the series.

I received free the item(s) mentioned in this post in exchange for my honest review through Christian Fiction Blog Alliance. Regardless ~ All my reviews are my honest and personal opinion and are not influenced nor reviewed by the sponsor prior to posting.
For more info, see my FTC disclosure or Review Policy.