PeelStar.com
is a website that lets you create custom decals and magnets that match the sports team you or you child plays on. It is a fun way for a parent, child or grandparent to preserve memories of their favorite sports by creating a replica of the team shirt, or cheer cone and poms.
For this review, I chose to use my son's baseball jersey from this Spring. He played on the Red Sox Team in Baseball. His Team Jersey was dark blue with
red and white stripes. His number was 14. I had him help me re-create his Jersey on PeelStar.com and here is how it turned out!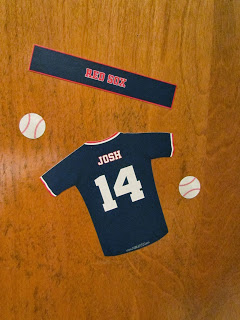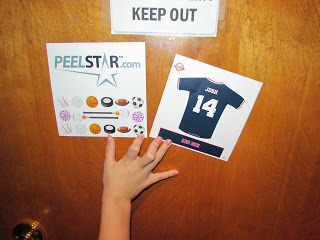 When the small decal arrived, it came with a sheet of sports stickers. So I used the baseball stickers for his door, and the soccer, basketball and cheer ones my daughter wanted on her room door . . .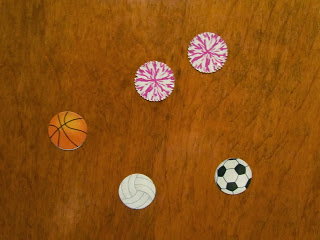 It was very easy to make and fun to use - The stickers are reusable and can be easily peeled back off and re-stuck on other surfaces. The only place we personally can't use them is on our walls because they are all textured. But room doors, car windows, and smooth walls work great!
Sound like fun? Here is how you can make your own decal or magnet:
First
, Pick the sport you want. You can choose from Soccer, Baseball, Football, Cheer, Hockey, or Basketball. Have a sport you want that is not listed? You can contact PeelStar and they will add it!
Next,
Choose your pattern - do you want stripes on the sleeves? collar? cheer cone/poms?
Then,
choose the colors. Try to match them as close to your childs' jersy or team colors as you can. Add stripes or solids where needed.
Finally,
personalize it - give it your son or daughter's team number, team name and do the final check to make sure it looks perfect! Then you get to choose the size/style -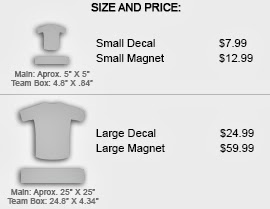 Simple and Easy - What are you waiting for? Head on over to PeelStar to begin creating your personal decal!

Disclosure: I received free the item(s) mentioned in this post in exchange for my honest review. Regardless ~ All my reviews are my honest and personal opinion.
I am disclosing this in accordance with the Federal Trade Commission's 16 CFR, Part 255: "Guides Concerning the Use of Endorsements and Testimonials in Advertising.".