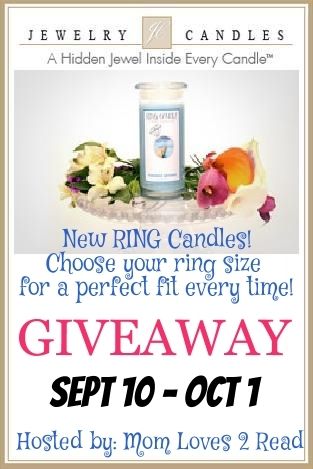 Blogger Sign Ups Are Now Open!
NEED 15 - 20 bloggers please!
It's time for another fun giveaway hosted by Mom Loves 2 Read! This time we are giving away TWO of their new Ring Candles to 2 lucky winners! These are different from other candles with rings inside - you can choose what SIZE ring you will get!


Here is How to Sign Up
Please read these simple guidelines below and then use the form (link at the bottom of this post) to sign up.
**Must have a minimum of 500 facebook or twitter followers to join**
**You MUST post the giveaway by noon the day the event starts or all links will be removed. If you have a problem getting your post up on time - email me immediately - I understand that occasionally life gets in the way!



Additional links may be purchased for :
$1 each for Facebook, Twitter, Pinterest, Bloglovin, RSS, Instagram
$3 for daily comment on your blog, or daily votes
$4 for backlink on all participating blogs
*Host Pages are available for $7 each - limited number available - first come first serve - lol
The post HTML, pictures and GiveawayTools form will be emailed to you several days before the giveaway event begins from me: momloves2read@itv-3.com. All you have to do is copy, paste, change or add a few sentences, and schedule it to post on your blog. Super easy! Make sure it doesn't go to your spam folders! Make sure you can receive emails from me -
Also, please add to the post info or rewrite some of the working in the post HTML for SEO purposes (to make your post unique), but all the basic information and the pictures and links need to remain intact. The sponsor links must remain dofollow for the duration of the giveaway - you may nofollow or delete once the event has ended!
The event will start as soon as I can get a minimum of 15 bloggers signed up .


Participating bloggers ARE permitted to enter the giveaway!


Participating bloggers will be asked to promote the giveaway at least 1 time daily on at least 1 social media (facebook, twitter, pinterest, etc) during the course of the event. A few ways to promote are on facebook, facebook groups, giveaway link ups, twitter, google+, linkedIn, pinterest, instagram, and so much more! Since this is a group event, everyone has to do their part for it to work!



Payment information
~ Fees may be paid via Paypal or Amazon.com egiftcodes sent to
MomLoves2Read@itv-3.com
If paying with Paypal - YOU are required to pay
all
paypal fees
yourself otherwise you will not be paying the full fee for this event -if you have existing funds in your paypal account, or a verified bank account - use the "gift" option for no fees (i think). Otherwise you may choose to send Amazon.com egiftcodes and then no extra fees are required.