About Grace Unplugged the Novel
Grace Trey is an 18 year old singer as passionate about her Christian faith as she is her phenomenal, God-given musical talent. Both traits come from her father, one hit wonder Johnny Trey who found Jesus after losing his chart success two decades ago.
When Grace encounters her own music break of a lifetime, the sudden dive into the "real world" puts her deeper beliefs to the test. Pop superstardom is just within reach but appears to require some spiritual compromise. Will Grace reject her faith, or will she own it?
Grace Unplugged
is based on the motion picture of the same name starring AJ Michalka (
Super 8
) and Kevin Pollak (
A Few Good Men
) with performances by award-winning artists Chris Tomlin and Jamie Grace.
My Review :
Grace Unplugged is the story of one girl and her struggle with her faith. She feels that her parents do not understand her dreams and though they want what is best for her, she does not agree with their ideas. She goes off on her own and finds that growing up and growing into her own personal faith is much harder than she thinks.
This coming of age story is full of struggles that most teens and young adults can understand, and most adults have been through at some point in their lives. Grace struggles to find where her faith in God and the real world fit together. This is a great story of one young woman's life experience and choices. I think most readers will enjoy the story and morals within Grace Unplugged the Novel.
And don't forget to watch for the movie coming out October 4th!
About the Grace Unplugged Author
Melody Carlson has sold more than five million books. A professional writer for twenty years, she recently received the Romantic Times Career Achievement Award. Melody has two grown sons and lives with her husband in the Pacific Northwest.

About Own It, Discover Your Faith in God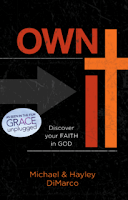 The movie
Grace Unplugged
tells the story of Grace Trey, an ideal Christian teenager who is also a phenomenal singer. But when she is pushed into the "real world" at the tender age of eighteen after getting the music break of a lifetime, her faith is put to the test.
Own It
mirrors the film by asking what it means to really "own" your personal faith rather than just automatically following in the footsteps of parents, friends, or other influencers. Best-selling authors Hayley and Michael DiMarco help readers understand what to do when faith meets real world challenges.
Without solid beliefs, poor choices are likely to follow. You must take the time to really know who you are, who you are becoming, and who God made you to be. It's your personal faith . . . own it!
My Review :
Own It is a companion book for the Grace Unplugged book and movie. It encourages the reader to think seriously about his or her personal faith.
Is it your faith? or the faith your parents or grandparents? Are you going to church services on Sunday mornings because everyone expects you to? or is it something that is an important part of your personal life? What choices are you owning in your personal faith walk?
This book has some great concepts that help the reader to take a personal and in depth look at their faith, beliefs and choices. I did enjoy some parts of this book, and I do feel it made me take a closer look at my personal beliefs. A nice companion to the Grace Unplugged book.
About the Own It Authors
Hayley DiMarco
is the best-selling author of more than thirty books including
Dateable, Marriable, Mean Girls,
and
The Woman of Mystery.
She has been a featured speaker at Women of Faith, Precept National Women's Conference, and MOPS Intl. among others and has consulted on the creation and enhancement of some of the largest stadium events for teens and young women in North America.
Michael DiMarco
is a skillled communicator and teacher who has authored more than a dozen bestselling books including the 2010 Christian Bookof the Year for Youth,
B4UD8
(Before You Date). He and his wife, author Hayley DiMarco, have one daughter and live in Nashville, Tennessee.
Socialize with Grace Unplugged:
Grace Unplugged Movie Facebook:
#/graceunplugged
Grace Unpluggled Movie Twitter: @GraceMovie
Grace Unplugged Website:
www.graceunplugged.com
B&H Facebook:
#/bhpublishing
B&H Twitter: @BHpub
And remember to check out the Grace Unplugged movie trailer.
And now for the FUN - a GIVEAWAY!
Enter below for a chance to win a Print copy of each of these books
Open to 18+ ~ US & Canada
void where prohibited by law

Disclosure: I received free the item(s) mentioned in this post in exchange for my honest review through FlyBy Promotions blogger program. Regardless ~ All my reviews are my honest and personal opinion.
I am disclosing this in accordance with the Federal Trade Commission's 16 CFR, Part 255: "Guides Concerning the Use of Endorsements and Testimonials in Advertising.".