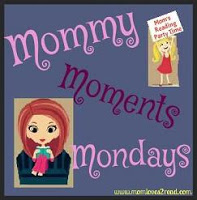 Welcome to Mommy Moments Mondays ~ a weekly hop that will showcase each Mom (or Dad) Blogger's personal experiences.
Post the direct link to your recent or favorite post that tells us about a parenting experience, advice, funny or serious happening, etc
Then spend the rest of the week, hopping around to visit other posts and leave a friendly comment!
1 ~ Please follow Mom Loves 2 Read (the Host Mommy) & any Co-Hosts each week.
2 ~ Grab the Hop Button and place it on your blog sidebar so everyone who visits knows that you are part of the Mommy Moments Mondays Hop!
3 ~ Link Up your post! Post the direct URL to one of your most recent or favorite Mommy Moments posts. I can be anything related to Mommy-hood, parenting, children, pregnancy, personal struggles, school, encouragement for parents, etc.
Please only add one link per week, per blog.
4 ~ Visit other Mommy (or Daddy) Posts! The main focus of this weekly hop is to share our experiences and encourage one another - so visit as many as you can each week and follow them, leave a comment or two on their post and make sure to mention that you are part of the MMM hop!
5 ~ Share this link up on your social media - the more we share the more Moms will join! Share to fb, twitter, pinterest, google+ and anywhere else you can think of!
Follow this week's Co-Hosts
(none this week - email me if you'd like to Co-Host)
Each week the link up will be open from Sunday 6pm 'through Tuesday 6 am (cst)
You can post your links during that time, then have the rest of the week to hop around and read all the great Mommy Moments Posts!

Would you like to be a Co-Host? If you are interested in Co-Hosting, email Susan ~ MomLoves2Read(at)itv-3(dot)com. I'd love to have you!