Fired Up by Mary Connealy
ABOUT THE BOOK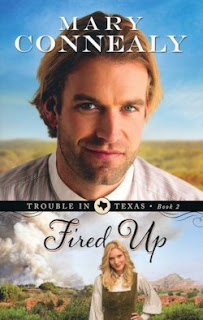 Rollicking Wild West Adventure and Romance from Bestselling Author Mary Connealy.
Dare Riker is a doctor who saves lives, but someone seems determined to end his. It may have something to do with the traitors he dealt with during the Civil War, or it might be related to the recent incident with Flint Greer and the ranch. Whoever the culprit is, he or she seems really fired up, and Dare can't let his guard down for a moment, which is a challenge, since right now he's trying to win the heart of the recently widowed Glynna.
Glynna Greer came west as a mail-order bride and ended up in a bad situation. Now her husband, Flint, is dead, and she's determined to care for her son and daughter on her own. She wants to believe Dare Riker is as decent as he seems, but she's terrified to lock herself into another marriage. She plans to support her small family by opening a diner--never mind that cooking is not her greatest talent. The men in Broken Wheel, Texas, are so desperate for home cooking that they seem willing to overlook dried-out beef and blackened biscuits.
Glynna can't help but notice that danger follows Dare wherever he goes. There's the avalanche. And then the fire. But things really get out of hand when someone plunges a knife from Glynna's diner into Dare's back. Are Flint's cronies still plotting revenge? Is Glynna's son engaged in a misguided attempt to protect his mother? Is a shadowy outsider still enraged over past injustices? And can Dare survive long enough to convince Glynna to take another chance on love?
If you would like to read the first chapter of
Fired Up
, go
HERE
.
My Review
:
Anyone who knows me well, knows that Mary Connealy is one of my all-time Favorite Christian Fiction Authors. I have almost ALL of the books she has written and have read many of them at least 6 times (so far). Fired Up is another wonderful story from the mind of this talented author.
Fired Up opens with adventure and ends with an intriguing romance. Throughout the story is a 'whole passel' of twists and turns that kept me so interested I did not realize it was nearly 2am before I finally finished reading. Dare is not a typical male main character, and is definitely not without his own flaws. The amount of danger and injury this poor many survives is unbelievable, yet he seems to bounce back over and over. Add to the mix Glynna who is a determined and capable widow, not looking for a new man in her life and trying to take care of her children; and you have the makings of a romance doomed for failure from the beginning. Yet, somehow manages to happen regardless of Glynna's son being completely against it from the start.
I loved this book and can't wait to read the next in this series, or any other from this author. Once again she has me going back to my favorites of her books and re-reading them, some for the 7th or 8th time!
Read my reviews of more of Mary Connealy's books:
~
Swept Away ~ Trouble in Texas Series book 1
~
Sharpshooter in Petticoats
~
Over the Edge
~
In too Deep
~
Dr in Petticoats
ABOUT THE AUTHOR:
Mary Connealy writes romantic comedy with cowboys. She is a Christy Award Finalist, a Carol Award Finalist and an IRCC Award finalist.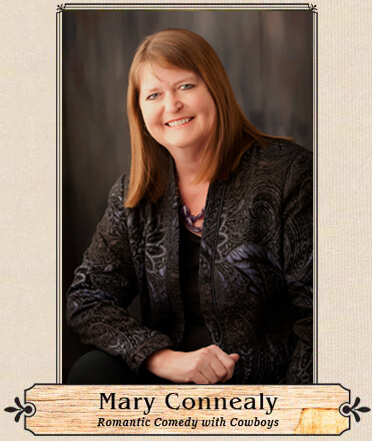 The Lassoed in Texas Series, Petticoat Ranch, Calico Canyon and Gingham Mountain. Petticoat Ranch was a Carol Award Finalist. Calico Canyon was a Christy Award Finalist and a Carol Award Finalist. These three books are now contained in one large volume called Lassoed in Texas Trilogy.
The Montana Marriages Series, Montana Rose, The Husband Tree and Wildflower Bride. Montana Rose was a Carol Award Finalist.
Cowboy Christmas—the 2010 Carol Award for Best Long Historical Romance, and an Inspirational Readers Choice Contest Finalist.
The Sophie's Daughters series.
Doctor in Petticoats
, Wrangler in Petticoats,
Sharpshooter in Petticoats
.
She is also the author of; Black Hills Blessing a 3-in-1 collection of sweet contemporary romances, Nosy in Nebraska, a 3-in-1 collection of cozy romantic mysteries and she's one of the three authors contributing to Alaska Brides with her Carol Award Winning historical romance Golden Days.

Disclosure: I received free the item(s) mentioned in this post in exchange for my honest review through the Christian Fiction Blog Alliance blogger program. Regardless ~ All my reviews are my honest and personal opinion.
I am disclosing this in accordance with the Federal Trade Commission's 16 CFR, Part 255: "Guides Concerning the Use of Endorsements and Testimonials in Advertising.".