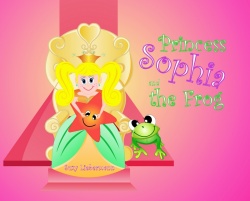 A wonderful fairy tale about friendship and happiness:
Princess Sophia is a little princess who has everything a little princess could wish for:
a big castle with many things inside.
However, she is bored and wants to fly to the moon.
One day a little frog comes by and helps her fly high up into the sky.
They come to land on different planets, where Sophia learns about feelings. She also learns that she can choose what mood she surrounds herself with, as this will impact her own.
After her return to the castle she realizes that all she needs to be happy is to be surrounded by good friends.

Join Princess Sophia in her pursuit of happiness.
My Review:
This is an adorable ebook that most little ones will enjoy. The beautifully illustrated pictures capture a young child's imagination as the story of this royal fairy tale unfolds. This is a story of friendship, happiness and adventure. Although I did like it and my youngest enjoyed reading it over and over, it was a story that is about feelings and about being happy with what you have and not always wanting more. It is an adorable ebook that little ones will enjoy,though I personally didn't care for the frog that kept turning into a flying umbrella. Not sure why this bothered me, but it did although I must say that it is a unique look at the princess and frog fairy tale.. I do like this author and have read a few of her books. This is not my favorite of hers but is still a cute ebook for very young children - I recommend it for ages 1 up to 6.

I received free the item(s) mentioned in this post in exchange for my honest review using Tomoson.com. Regardless ~ All my reviews are my honest and personal opinion and are not influenced nor reviewed by the sponsor prior to posting.
For more info, see my FTC disclosure or Review Policy.