ABOUT CULVER'S
In 1984 Craig and Lea Culver, along with Craig's parents George and Ruth, opened the very first Culver's in the family's beloved hometown of Sauk City, Wisconsin.
George Culver, who's father was a cheesemaker and grandfather was a farmer, spent the early part of his career inspecting and grading dairy farms. While he was out calling on area dairy farms, his wife Ruth Culver was home joyfully raising their three children, instilling in them the small-town, Midwest values she herself had come to know.
In 1961, George and Ruth bought their first restaurant. With their kids growing up serving guests and learning firsthand about hospitality and delicious food cooked to order, the Culver family's team approach became the model of many successful restaurants and supper clubs to come. To read the rest of this wonderful story
click here
.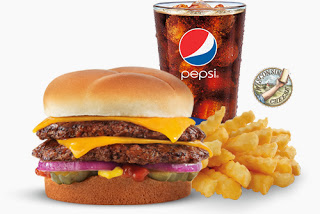 My family's favorite hometown restaurant is Culver's with a wonderful family friendly atmosphere and special kids and family nights, it makes a great place for the whole family to eat delicious food and amazing deserts at affordable prices. When offered the opportunity to promote Culver's Thank You Farmer's tribute, I jumped at the chance. And now, I have a Yummy Review and Giveaway to share with you as well.
I happen to live in a somewhat "small" town, not too far from a pretty "big" city. This small town happens to be known as the Pumpkin Capital. With a large Nestle factory right downtown, and huge semi trailers full of pumpkins travelling through every fall, it is not hard to imagine that our town yearly festival is called the "Morton Pumpkin Festival." In honor of this fun event each year, our town often has Pumpkin Ice Cream, Pumpkin Pie, Pumpkin Doughnuts, Pumpkin Chilli and a whole variety of other Pumpkin goodies.
I tried the Pumpkin Pie Concrete mixer, and all I can say is YUMMY! Then, of course (not the same night thankfully) I had to go back and try another flavor . . . Oreo! It was my husband's choice since I thought it would be nice of me to share with him. For the photo though, I had to bribe my son with a few bites - lol The Culver's website also has a link where you can see the flavor of the day in your local restaurant, AND see all the current Concrete mixer flavors that they have . . . I have a list started of which flavors I want to try next, and next after that, and after that . . .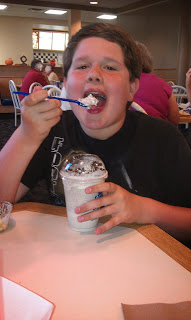 In honor of our love of sweet yummy cold treats, delicious burgers on buttery buns, fries, onion rings and not having to cook or clean up . . . here is a fun giveaway!
3 different people who enter this giveaway
will each receive a coupon for one FREE Concrete Mixer from Culver's.
Since I will personally be mailing out these fun coupons, this giveaway is
Open to US residents ages 13 and older
(must have a parent's permission to enter and to complete entries on the giveaway form.)
**Not sure if there is a Culver's near you? Check HERE for all their locations!

Disclosure: I received free the item(s) mentioned in this post in exchange for my honest review through the sponsor listed. Susan @ Mom Loves 2 Read will personally mail out these prizes withink. Regardless ~ All my reviews are my honest and personal opinion.
I am disclosing this in accordance with the Federal Trade Commission's 16 CFR, Part 255: "Guides Concerning the Use of Endorsements and Testimonials in Advertising.".