This week, the
Christian Fiction Blog Alliance
is introducing
The Nurse's Secret Suitor
Love Inspired (October 1, 2013)
by
Cheryl Wyatt
ABOUT THE BOOK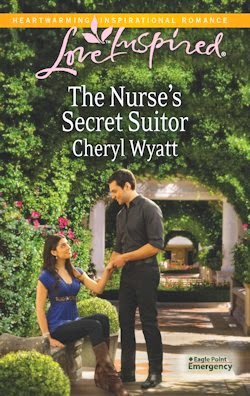 A Strong-Willed Heart Trauma nurse Kate Dalton can handle any challenge—except love. The combat veteran dreams of settling down, but heartbreak is one risk she won't take.
Then a chance encounter opens her heart to a masked stranger…who might not be a stranger after all! Caleb Landis, the army medic behind the disguise, has always admired Kate, even though she only saw him as her best friend's brother.
What will it take for Kate to discard her fears and discover the man she's always hoped to unmask? Eagle Point Emergency: Saving lives—and losing their hearts— in a small Illinois town.
If you would like to read the first chapter of The Nurse's Secret Suitor, go HERE.
My Review:
The Nurse's Secret Suitor is another amazing story if the Eagle Point Emergency series by author Cheryl Wyatt. I have read each of these books and the all are wonderfully written. This book does not disappoint. Continuing the story of the nurses, doctors and medical staff at Eagle Point, Trauma nurse Kate finally gets her turn to shine. She has dreams of love but is afraid of being hurt. While medic Caleb has been attracted to Kate for a very long time, but she shies away from relationships. This story is a wonderful read and is one that was very hard to put down. I highly recommend this book and the rest of the Eagle Point Emergency series.
Read my review of The Doctor's Devotion in this same series
ABOUT THE AUTHOR:
Not even Cheryl Wyatt's closest friends would dream that this sweet, shy intercessor plots mayhem during announcements at church. She is a Registered Nurse turned stay-at-home-mom, wife and writer who loves Jesus with all of her heart.
Joyful chaos rules her home, and she delights in the stealth moments God gives her to write. She stays active in her church and in her laundry room. She is convinced that having been born on a Naval base on Valentines Day destined her to write Inspirational Military Romance.
Cheryl loves to laugh and to make others laugh, so she often plans comedic moments for her defenseless characters in spite of their grumbling. She says it's payback for when they refuse to obey the plots she's set out before them.
Prior to publication, six of Cheryl's manuscripts placed in ten RWA Contests. Two of Cheryl's stories also placed First in ACFW's Noble Theme Contest 2005 (Contemporary Romance Category), as well as ACFW's Genesis Contest 2006 (Mystery/Suspense/Thriller Category).
She currently writes for Love Inspired. Her Wings of Refuge Series, about a team of USAF Pararescue Jumpers and the ladies who capture their hearts, can be purchased anywhere books are sold.

Disclosure: I received free the item(s) mentioned in this post in exchange for my honest review. Regardless ~ All my reviews are my honest and personal opinion.
I am disclosing this in accordance with the Federal Trade Commission's 16 CFR, Part 255: "Guides Concerning the Use of Endorsements and Testimonials in Advertising.".