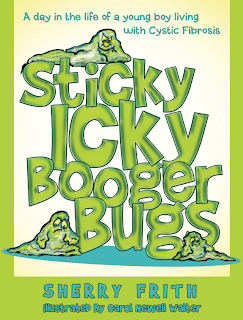 There are 30,000 children each year diagnosed and battling cystic fibrosis. There is no cure for this progressive disease. Sticky Icky Booger Bugs is the tale of a boy's battle with cystic fibrosis as he attempts to avoid the hospital.
Kory is just like any other child. He loves recess, playing soccer and exploring his neighborhood with his best friend. With every puff, cough, and sneeze, Kory keeps the sticky icky booger bugs away so he can have fun every day!
My Review
:
This is a wonderful book to explain to children and parents what it is like to live every day with Cystic Fibrosis. I love how Kory explains his daily schedule and that other than the sticky icky booger bugs, he is like nearly every other kid his age who enjoys soccer and playing with his friends. He can run and play, he just has to take special care of his body so he can breathe better.
The simple illustrations are perfect for each page, helping show the course of Kory's treatment throughout his day. This would be a perfect book for doctors to give to children and families who are newly learning about CF, or even for friends and relatives who need to know that a child with CF is just like any other child, only with special medicines to help get rid of those nasty,
sticky icky booger bugs
. I'd love to see a copy of this book in my children's school library. It would be a great addition to school and local libraries everywhere.
I found this great information about Cystic Fibrosis on
www.cff.org
:
What Is Cystic Fibrosis?
Cystic fibrosis is an inherited chronic disease that affects the lungs and digestive system of about 30,000 children and adults in the United States (70,000 worldwide). A defective gene and its protein product cause the body to produce unusually thick, sticky mucus that:
clogs the lungs and leads to life-threatening lung infections; and

obstructs the pancreas and stops natural enzymes from helping the body break down and absorb food.
In the 1950s, few children with cystic fibrosis lived to attend elementary school. Today, advances in research and medical treatments have further enhanced and extended life for children and adults with CF. Many people with the disease can now expect to live into their 30s, 40s and beyond.
Symptoms of Cystic Fibrosis
People with CF can have a variety of symptoms, including:
very salty-tasting skin;

persistent coughing, at times with phlegm;

frequent lung infections;

wheezing or shortness of breath;

poor growth/weight gain in spite of a good appetite; and

frequent greasy, bulky stools or difficulty in bowel movements.
Statistics
About 1,000 new cases of cystic fibrosis are diagnosed each year.

More than 70% of patients are diagnosed by age two.

More than 45% of the CF patient population is age 18 or older.

The predicted median age of survival for a person with CF is in the late 30s.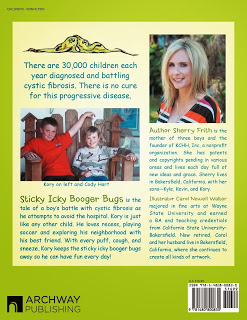 Author Sherry Frith is the mother of three boys and the founder of K.C.H.H., Inc, a nonprofit organization. She has patents and copyrights pending in various areas and lives each day full of new ideas and grace. Sherry lives in Bakersfield, California, with her sons-Kyle, Kevin, and Kory.
Illustrator Carol Newell Walter majored in fine arts at Wayne State University and earned a B.A. and teaching credentials from California State University-Bakersfield. Now retired, Carol and her husband live in Bakersfield, California, where she continues to create all kinds of artwork.
Sticky Icky Booger Bugs was published by Archway on July 26, 2013 and is available on http://www.amazon.com/

To learn more, visit http://beatsnot.com/ .

Disclosure: I received free the item(s) mentioned in this post in exchange for my honest review. Regardless ~ All my reviews are my honest and personal opinion.
I am disclosing this in accordance with the Federal Trade Commission's 16 CFR, Part 255: "Guides Concerning the Use of Endorsements and Testimonials in Advertising.".