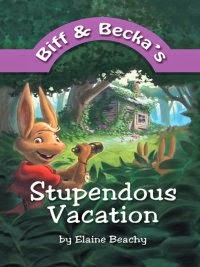 Biff's anticipated family vacation takes an unexpected turn. How will he deal with bitter disappointment? Is his summer ruined? Will he be humiliated by his friends?
In interesting twists and turns, the author takes Biff and his rabbit family through a trying time that has a surprising outcome. Engaging questions
for each chapter at the end encourage lively discussion between your child or grandchild and you.
The author paints a picture of a godly home to give encouragement and guidance to parents who struggle and kids who hurt.
Biff and Becka's Stupendous Vacation helps your child know how to deal with disappointment. It also helps children relate to family and friends with honesty and respect.
My Review
:
I understand wanting to share a moral and Godly message with children and parents - and this book definitely goes above and beyond with that message. The entire first chapter is a "pour it on thick" type of sermon that seems to go on forever. Once the first chapter is finally over, the story actually begins and it is a good story.
With characters that are in a rabbit family that acts like humans which is not unusual, but it does not carry over into the rest of their world - other animals in the story are just animals, while they are talking, thinking, praying rabbits who wear clothes and do everything humans do, why couldn't they just be human kids? Or why aren't all the animals human-type?
Anyway overall it is a nice story with a great moral message - I just felt it could have been written better so that children would enjoy reading it for the story itself and see the message within rather than having it shoved at them right from the beginning. Sorry, I just really had a hard time with that first chapter. Don't get me wrong - I agree with most everything said, just do not feel it belongs in a large sermon in a child's story. I'm afraid I'm a bit conflicted with this one and not sure I'd read any others in the series personally.

Disclosure: I received free the item(s) mentioned in this post in exchange for my honest review through Booklook Bloggers. Regardless ~ All my reviews are my honest and personal opinion.
I am disclosing this in accordance with the Federal Trade Commission's 16 CFR, Part 255: "Guides Concerning the Use of Endorsements and Testimonials in Advertising.".