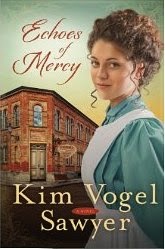 Sometimes a secret must be kept for the truth to be revealed.

When a suspicious accident occurs at the famous Dinsmore Chocolate Factory in Sinclair, Kansas, Caroline Lang goes undercover as a factory worker to investigate the circumstances surrounding the event and how the factory treats its youngest employees—the child workers. Caroline's fervent
faith, her difficult childhood, and compassionate heart drove her to her job as an investigator for the Labor Commission and she is compelled to see children freed from such heavy adult responsibilities, to allow them to pursue an education.
Oliver Dinsmore, heir to the Dinsmore candy dynasty, has his own investigation to conduct. Posing as a common worker known as "Ollie Moore," he aims to find out all he can about the family business before he takes over for his father. Caroline and Oliver become fast friends, but tension mounts when the two find themselves at odds about the roles of child workers. Hiding their identities becomes even more difficult when fate brings them together over three children in desperate need. When all is revealed, will the truth destroy the love starting to grow between them?
Susan's Review :
I love a good clean mystery, and even more if it is set in the past. Author Kim Vogel Sawyer happens to be on of my favorite Christian Mystery authors and her book Echoes of Mercy did not disappoint. With thrilling mystery, twists and turns throughout the story and captivating characters that more than kept my interest, I once again found myself staying up quite late due to the story continuing to engage my interest so that I could not put this book down until I had figured out the end! And what a story! A well written story with characters that come to life on each page. I loved this book and highly recommend it to anyone who loves a good, thrilling clean mystery!
Sharon's Review :
The book is Echoes of Mercy. I found the book to be very interesting. Kin is an author that stays within the genre of Christian fiction and give a touch of mystery to this story. The story line is one that holds you from the very beginning all the way to the end. I would recommend this for anyone that loves fiction. I was not disappointed with the story at all.

Disclosure: I received free the item(s) mentioned in this post through Blogging for Books in exchange for my honest review. Regardless ~ All my reviews are my honest and personal opinion.
I am disclosing this in accordance with the Federal Trade Commission's 16 CFR, Part 255: "Guides Concerning the Use of Endorsements and Testimonials in Advertising.".