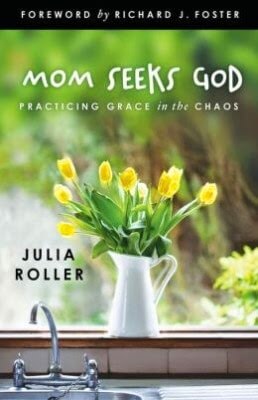 The first months and years of motherhood can be the most challenging and disorienting of your life—and faith. When you're surrounded by the happy chaos of children, how do you spend quiet time with God if the only quiet time you get is while you sleep? How can you demonstrate a
solid spiritual life to your children if you don't have time to pursue one yourself?
I felt stalled in my spiritual growth by the busyness of life with her toddler, so I embarked on a yearlong journey through ten spiritual disciplines: prayer, fellowship, submission, study, simplicity, silence, worship, fasting, service, and celebration. As I focused on each discipline, I discovered practical ways to observe them—even in the chaos of the everyday.
Mom Seeks God offers a highly relatable story and useful advice to help new moms grow in their faith as they address life changes with grace, patience, and prayer. As readers discover ten essential faith practices, they'll learn that motherhood, itself, is a spiritual discipline, and may be God's most effective technique for forming a more Christ-like life.
See more on her
website
Review
:
The book is one of Christian inspiration and growth. Julia writes about her struggles as a mom and how to keep her spiritual life active while being a mom. The book offers practical advise to help anyone grow in their faith while they go through lifes experiences. This book I would recommend, not for just mothers, but for anyone that struggles with trying to fit God in with their daily struggles of life. I thoroughly enjoyed it.
~ Review by Sharon
~ Posted by Susan
*Purchasing through this affiliate link will help Mom Loves 2 Read continue to blog and grow - as we receive a tiny portion of the cost through the Amazon Affiliate Program.

Disclosure: I received free the item(s) mentioned in this post in exchange for my honest review. Regardless ~ All my reviews are my honest and personal opinion.
I am disclosing this in accordance with the Federal Trade Commission's 16 CFR, Part 255: "Guides Concerning the Use of Endorsements and Testimonials in Advertising.".