Disclosure: I got this product as part of an advertorial.
Get ready for stress-free baking and scrub-free cleaning with this wonderful silicone muffin pan by OvenArt Bakeware.
OvenArt Solves The Problems of Metal Muffin Pans
As you probably know, metal muffin pans have frustrating drawbacks. Metal rusts, wraps, and wears down with use. Stuck-on food is annoying and a nightmare to clean. And then there are the chemical nonstick coatings that eventually scrape off and only leave you
wondering if it all went into your food.
A Nonstick Muffin Pan That's Worth It
We make our much loved silicone muffin pan with an expensive grade of pure 100%, high quality European silicone. Soon, you'll be confidently turning even the stickiest and messiest recipes into delightful muffins, cupcakes, cornbread, egg muffins and more. Food will slide out effortlessly and bake perfectly every time using your safe, BPA-free, filler-free, and worry-free silicone bakeware.
Cleanup Is A Breeze
Isn't it annoying to have to soak and scrub a pan? You'll really appreciate how easy this muffin pan cleans up. The magic nonstick baking cups clean with a little detergent and water or you can toss the pan in the dishwasher. With such an easy cleanup, why stop at making muffins and cupcakes? Enjoy delicious non-muffin recipes such as taco cups, crab cakes, mini lasagnas, and frozen desserts (it's safe for the oven, freezer, microwave, and dishwasher).
Perfect For First-Time Silicone Bakers
New silicone users love the results batch after batch. They enjoy healthy homemade treats and save on store-bought packaged goods. This high quality muffin pan is protected by the OvenArt "Better Muffin" Guarantee for lifetime assurance against defects and performance issues.
My Review: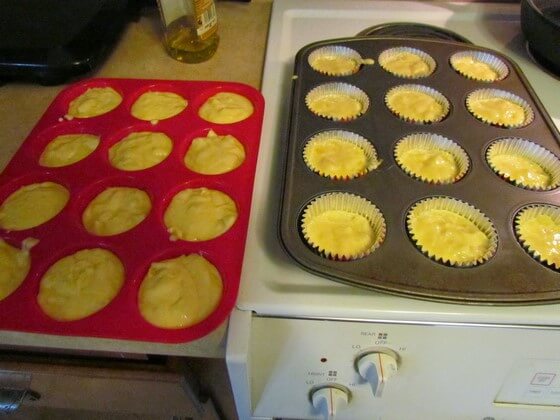 For this review I really put the OvenArt Muffin Pan to the test. I made applesauce - pineapple cupcakes, which are very moist. And, to make the test better - I put half of the mix in the OvenArt Muffin pan and the other half in a metal pan with muffin wrappers like I usually do.
The OvenArt Muffin Pan baked the cupcakes nicely though it took a few minutes longer in the oven to get them completely done than that of the metal pan. I used a butter knife to gently loosen around the edges of the cupcakes before removing them from the pan - then carefully pushed on the bottom of each area to release and remove the cupcakes.
There was very little cupcake crumbs left behind in the Muffin Pan - I was actually surprised at how easily
I do believe that I will be using my OvenArt Silicone Muffin Pan with every batch of muffins or cupcakes I make - especially with my jalepeno cheddar corn muffin recipe!