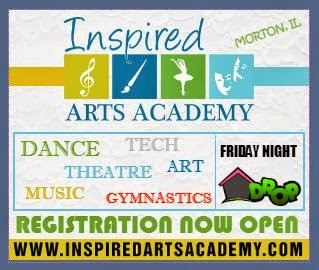 CHECK OUT THE LATEST AND GREATEST FROM INSPIRED ARTS ACADEMY!
May 12/13th!!
You are encouraged to bring a friend and sample ALL classes on hand at IAA during your class time. We will have staff in each room (i.e. dance, art, gym, theatre, lego, music) and students will rotate in and out of rooms during their 45 minute class time. THis is a great opportunity for your child to
view OTHER areas of our studio and what we offer. We encourage well rounded children to increase creativity, innovation and brain power!
Happy Mother's Day!
WE love our moms! You are the 'greatest teacher' in your child's life- we applaud you for the investment, the commitment and support!! Love, the IAA staff
BROADWAY TIX!! RSVP email TODAY!
Just a reminder - You need to RSVP to Rachel at racaldwell@mail.bradley.edu TODAY , MOnday the 5th so we can see where we are at numbers wise. WE have more persons on Friday, so THursday night show would be great to attend if able! RSVP today! THank you so much!! Sarah
Dance- competitive and fall recreational (May 15th- tryout!)
We are excited to have Danielle with us this year. SHe is an experience dancer from Chicago in classical/contemporary ballet, jazz, jazz funk, contemporary, lyrical and modern dance. She has taught children aged preschool-high school at her studio in Chicago and competed as well. Tryouts for competitive dance are May 15th- Thursday- SAVE THE DATE! for students aged 9-17. 5pm time. She will be teaching fall rec dance as well.
Community Performance Opportunities! May 31 and JUne 7 and July 26th..
WHo's invited? Story of My life (guitarists, pop singers)
Broadway show (broadway dancers, actors, singers )
May 31st at 4pm- Relay for LIfe
JUne 7th at 9am - Plaza fundraiser for Morton CHamber
Kids' Day event
held
July 26th
at the Shoppes at Grand Prairie.
RSVP?!
Please respond to:
sarahknuppel@gmail.com
if you are interested in performing at either event by May 12th week. It will be a great time!!!!
VACA BUCKS for Summer Registrants!
If you're going on vacation this summer and are going to miss a class or two, no worries! We will grant you a vaca buck to be used towards products/services at IAA!


DATES TO REMEMBER:





May 7th

- Broadway time capsule dress rehearsal- 6pm (broadway dance acting, singing and ballet classes- 530 call time)


May 8th

-Broadway time capsule show- 6pm 530 call time


May 9th

-Broadway time capsule show- 6pm 530pm call time


May 5th

week

- Last week of classes for Wednesday students


May 12th week

- Last week of classes for MOnday/Tuesday students (bring friend, explore the studio!)


May 15t

h- Competitive Dance tryouts!!!! 5pm


May 16th

-Summer Blast off EVENT! GIVEAWAYS, BOUNCE HOUSE, SUMMER READING FUN!

(*Mom Loves 2 Read will be a feature Vendor with TONS of Prizes & More!

)


May 30th

- DROP, Summer