About Minties Treats
: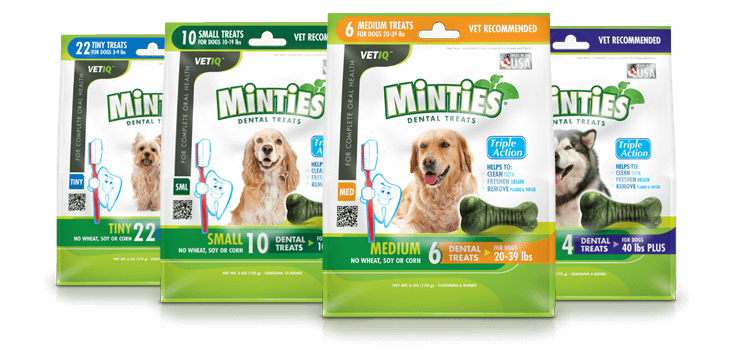 Minties are made in the USA and free of many ingredients that may be of concern to you and your dog: wheat, gluten, soy, corn, artificial flavors and animal by-products. Minties have unique hardness, shape and texture to keep your dog's teeth clean and healthy as he chews while helping reduce plaque and tartar.
Each Minties Dental Treat contains five natural ingredients that work in your dog's mouth and stomach to promote fresh breath and reduce unpleasant odors:
Mint promotes minty fresh breath.
Parsley contains enzymes that help break down odor-causing particles in the stomach.
Dill helps inhibit bacterial growth and helps prevent early stages of gingivitis.
Fennel helps control bacteria and is a natural breath freshener.
Chlorophyll from alfalfa balances acid levels in the stomach and helps deodorize your dog's body.
Review
:
For this review I was sent a package of Minties Treats and a package of Minties Fresh for my German Shorthair Pointer - Daisy, to try. She loves the Minties Treats and her mouth/teeth seem to be a bit cleaner than they were previously since she has started eating them! She loves them just as much as any other treat she has had, and gobbles it up quickly!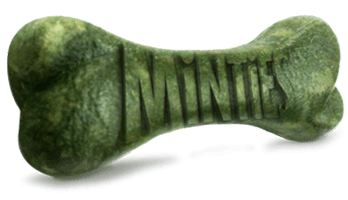 The Minties Fresh she did not like at first. She actually gave me a look - you know the one - head slightly cocked to the side - sad, questioning eyes - seeming to think "what am I supposed to do with that"
After the first one or two of them, she likes them better now, but they are still not her favorites. I still give them to her because they seem to help her breath stay less offensive for a longer period of time (longest I checked was an hour!)
A couple of things I really LOVE about giving my furry family member Minties Treats from Vet IQ. First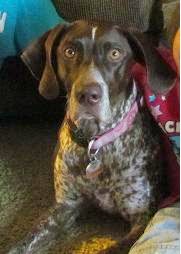 they are Made in the USA! Can't beat something healthy for your furry loved one, made right here at home! Second, there are no artificial flavors or animal by-products in these treats. Minties bones are also wheat free, gluten free, soy free, and corn free!
Dogs often eat or chew on the strangest things! My dog, Daisy seems to constantly be finding strange things in the yard or on walks to chew - but when she receives regular treats, she seems to look for things to put in her mouth much less often.
With the Minties Treats, a dog who does not cooperate to have her teeth cleaned, can have a treat that scrubs her teeth clean of debris, food, and whatever else she managed to put in her mouth. With the Minties Fresh treats, her breath is much less offensive for a while after she has a few of those!
Now, a little more about Vet IQ - they not only have great Dental Treats for Dogs, but other great pet products for pet families. They offer Vet Guard for Dogs and Cats, Prescription Medications and Health & Wellness items like the Minties as well as treats that you can put pills in to help your pet get them down. You can visit Vet IQ online here ~
www.vetiq.com/
Minties are available in the US and Canada at Walmart! I love that I can purchase more Minties at the same store I purchase Daisy's Dog Food and supplies!
Vet IQ also have printable coupons and discounts that you can find
HERE
!

Disclosure: I received free the item(s) mentioned in this post in exchange for my honest review. Regardless ~ All my reviews are my honest and personal opinion. I do not work for, or with, any brand mentioned in this post, nor do I have any official relationship with them. The original content was created for a one time review partnership with GigaSavvy.
I am disclosing this in accordance with the Federal Trade Commission's 16 CFR, Part 255: "Guides Concerning the Use of Endorsements and Testimonials in Advertising.".