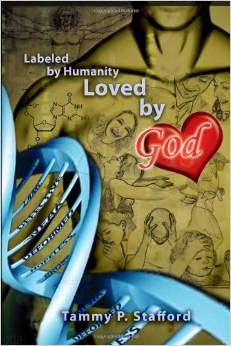 Labeled by Humanity, Loved by God is an inspiring story of how one, small determined girl depends upon God to transform her life. Doctors predicted she would never walk advising her parents to put her away in a home when she was born with a severe deformity of her lower
legs and feet.
Labeled lame at birth, with twisted stumps for feet, only two toes per foot, no ankles, and calves the size and shape of a tiny ball bat, God has proven he is able!
The book is splashed with vivid photos that will amaze you, along with personal accounts of how God has rescued, forgiven, delivered and continues to mold her life.If humanity labels you as different or perhaps a misfit, God loves you, as his child.
First paragraph excerpt :
Darkness, miserable and pitch black.

Darkness yearning desperately for a flicker of light to prove hope exists.

Misery ushered in on a day that should've been one of the happiest in my parent's lives.

A darkness so black it was if I had licked my tiny thumb and forefinger and snuffed out the only candle that lit the room.

I have just been delivered in a small community hospital in northwest Georgia.

If I could speak I would ask "Mommy, do you love me?"
My memoir, Labeled by Humanity, Loved by God answers that question. Go with me on my journey from darkness to light, desperation to hope...
Review
:
This story is about one woman's life from birth to adulthood, from deformed to transformed, from humanity's labels to God's love. I can not put this book down. It is for anyone, even if they do not have a deformity in their physical body, but struggles with "labels" that society has put on them. Through it all, God is there to show them that they are loved and accepted by him.
~ Reviewed by Sharon
~ Posted by Susan

Disclosure: I received free the item(s) mentioned in this post in exchange for my honest review. Regardless ~ All my reviews are my honest and personal opinion.
I am disclosing this in accordance with the Federal Trade Commission's 16 CFR, Part 255: "Guides Concerning the Use of Endorsements and Testimonials in Advertising.".