As love restores Rhoda, a sudden tragedy is the test of faith she never saw coming.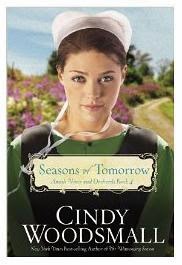 More settled in her heart than ever before, Rhoda Byler feels a newfound confidence living in the Old Order Amish settlement she helped establish in Orchard Bend, Maine. Time has helped to heal the wounds of Rhoda's recent severed relationship, and she finds that even her unusual gift of
profound intuition is less of a burden as she continues to seek God's wisdom for her future. She is happy to be working alongside the King family and the love of her life as they tend and nurture the settlement's orchard.
Yet when Leah King's involvement with Englischer Landon Olson becomes known outside of the Maine community, her disregard of the Ordnung could threaten all the Orchard Bend Amish are building. In the midst of addressing the discord, a shocking tragedy challenges the young settlement like never before, threatening to uproot Rhoda's peace and the future of everything she holds dear.
When several members of Orchard Bend Farms are displaced, the estranged King brother is called upon to return. Can those who founded the new Amish community in Maine unite Or will the lingering pain of past hurts and present struggles result in the end of their dreams?
Review
:
Cindy Woodsmall continues the life of Rhoda in her Amish Vine and Orchard series. This was the 4th book in the series, but the first book I read and I found it worth reading and held my interst from the introduction to the end. The book takes Rhoda through the struggle of keeping a newly founded Amish community together while dealing with the pains of past hurts and present struggles. I look forward to finding the first 3 book so I can fully understand the complete story line involved in this series. I would recommend this book as well as the rest of the series to anyone that loves to read Amish books.
~ Reviewed by Sharon
~ Posted by Susan

Disclosure: I received free the item(s) mentioned in this post in exchange for my honest review through Blogging for Books. Regardless ~ All my reviews are my honest and personal opinion.
I am disclosing this in accordance with the Federal Trade Commission's 16 CFR, Part 255: "Guides Concerning the Use of Endorsements and Testimonials in Advertising.".