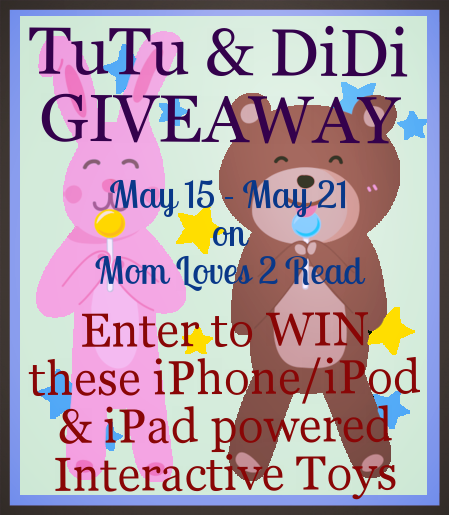 1 winner will receive:
one DiDi iPad-powered bear + Magic Toys
and one TuTu iPod/iPhone-powered bunny + Magic Toys
*Please note that we provide the plush DiDi and TuTu toys and their free iTunes applications, but do NOT provide the iPad or iPod/iPhone*
Now, about TuTu and Didi ~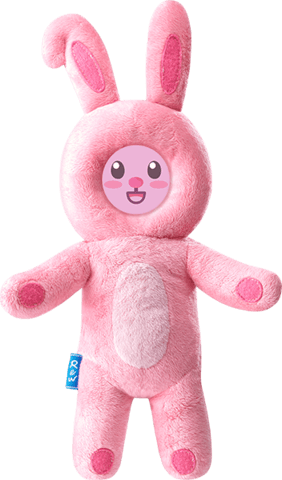 TuTu is a soft, plush toy enhanced with our powerful software and Magic Touch™ add-on toys that kids use to feed Tutu, brush her teeth, give her milk and play games.
Watch a video on TuTu
here
and share her on Facebook, Twitter and Pinterest below.
TuTu comes with:
TuTu plush doll
Magic Touch™ apple, carrot, milk, toothbrush and ring
App with registration code
DiDi is an iPad powered toy for kids preparing for elementary school. We think you'll love DiDi because:
Feel Good About Playtime - DiDi's games and storybooks are fun, yet educational.

Real Toy, Real Play

- Unlike an app, kids can bond with DiDi because he is a soft teddy bear they can hold and feed with our proprietary accessory toys.

Tamagotchi Experience - Care for DiDi to earn prizes and unlock new games and books.
Every DiDi comes with a DiDi plush toy, 5 Magic Touch™ toys, and a copy of the DiDi app to run his games and books.
Do you kiddos like to play on your iPhone? iPod touch or iPad? Do you always know what games or apps they are interacting with? What if you could turn your device into a fun and unique toddler/preschool friendly playmate? At the same time, protecting your device in a cuddly friend?
Well, here is your chance to try it out. Roam and Wander have created these adorable interactive cuddly friends for little ones to love. TuTu is an adorable pink plush rabbit that children can feed, care for and love. She is powered using an iPhone or iPod touch - with the TuTu app (free with TuTu) downloaded.
DiDi is a cuddly teddy bear that uses an iPad or iPad mini with app (free with DiDi) to make a fun interactive friend that most children will absolutely love! My 6 year old daughter is constantly playing with TuTu (she also plays with DiDi but I don't leave my iPad mini inside DiDi). She loves to be able to give her a drink of milk, feed her and brush her teeth. I have tried several times to find TuTu and DiDi to test them out for this review/giveaway only to find her hiding in her room with them! She really loves them!
My only issue is that since these adorable toys/apps are still new, there are not many games/books yet for DiDi - but with the Kickstarter Campaign - it will have many more features coming soon - so once you have DiDi and TuTu - any updates will add new and exciting games, books and more!
TuTu and DiDi are great for back to school, holiday gifts, birthdays or traveling! TuTu retails for only $39.99 and DiDi will retail for $59.99 - BUT right now - with the DiDi Kickstarter campaign - you can purchase TuTu and DiDi for a HUGE discount! But hurry - the Kickstarter ends on May 21st and they will both go back to full price!
Twitter: @roamandwander / @didithetoy
Instagram: @roamandwander
*Winner will be notified via email on May 21st - Please check here or your Spam folders! Winner has only 48hrs to reply to claim this prize - MUST reply with Full Name, Age, whether you own an iPad or iPad mini, and Full Mailing address with phone number for shipping - Winner's info will ONLY be shared with the Sponsor - Must be 18 or older to enter/win! Open World Wide where allowed by Law. ALL entries will be verified prior to winner being chosen!*
You can also enter to win another DiDi package
HERE
!

Disclosure: I received free the item(s) mentioned in this post in exchange for my honest review. Regardless ~ All my reviews are my honest and personal opinion.
I am disclosing this in accordance with the Federal Trade Commission's 16 CFR, Part 255: "Guides Concerning the Use of Endorsements and Testimonials in Advertising.".