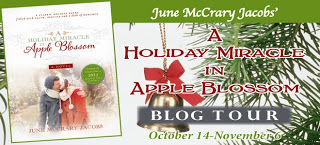 When her student, six-year-old Mary Noel, survives a car accident over Thanksgiving break, Amber and her new friend, Paul, are determined to cheer her up during the holidays. But Mary Noel's most painful injury is the loss of her dog. The more withdrawn Mary Noel becomes, the more Amber and Paul need a miracle—a miracle that requires the entire community's help.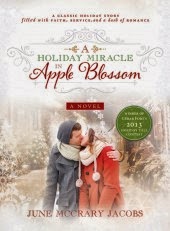 "What's happened?" Amber asked.
"One of your students was critically injured in an accident."
Amber let out a squeak. "Who?"
Tragedy brings heartache to the community of Apple Blossom. A car takes the life of 6-year-old Mary Noel Simmons's best friend—her dog—and nearly destroys Mary Noel's spirit as well. Now she lies at the hospital, traumatized and silent, while the medical bills are piling up with no way for her parents to pay them.
With the help of her new friend, Paul, Amber sets out to solve the family's financial problems by involving the entire community. And as the two friends work together, they discover that creating a Christmas miracle may also have some unexpected benefits. Filled with romance and kindness, this story of hope and faith will warm your hearts.
My Review :
This was a wonderful start to my holiday season. A story of sadness and tragedy that turns to hope and love during the Christmas Holidays. A tragedy strikes a small town when a young child is hit by a car. Her classmates in school are saddened and her teacher does her best to find ways to use their love for their fellow student and friend to encourage her during her stay in the hospital.
Along the way this wonderful, loving teacher meets a new friend and finds a love of her own. The romance, faith in the midst of tragedy and miracles brought on by the support of an entire town and surrounding area brings the true meaning of this wonderful season to life in a very special way.
This story is written in an easy to read manner that even younger readers will be able to enjoy. Although it is a short and quick read, it is still full of emotion and determination. This story is one to read over and over regardless of the season. I personally recommend it for ages 14 and up due to the fun romance and the emotions of the young child and her family.
About the Author:
June McCrary Jacobs was honored to be chosen as the winner of Cedar Fort Inc.'s 2013 Holiday Tale Contest. Her Christmas novella, 'A Holiday Miracle in Apple Blossom' will be released on October 8th, 2013.
Although this is June's debut novel, it is not her first published work. Nearly one hundred of June's original sewing, quilting, and stitchery projects and articles have been published in recent years in sewing books and sewing and crafting magazines distributed nationally and internationally. Two of her sewing designs for children will appear in the upcoming '101 One-Yard Little Wonders' book published by Storey Publishing.
A Californian since age six, June enjoys reading, writing, visiting historic homes and museums, cooking, designing, sewing, quilting, sewing for charity, and hand-embroidery.
Follow June's writing, sewing, and reading adventures on her 'Writing and Sewing' blog found at: http://www.junemccraryjacobs.com. Her weekly posts (updated each Wednesday) include book reviews, sewing tips, sewing projects with complimentary instructions, and journaling of the author's visits to museum exhibits, textile and art shows, and more.
Follow June on her Author's Facebook Page at: #/pages/June-McCrary-Jacobs/153549754836128
Disclosure: I received free the item(s) mentioned in this post in exchange for my honest review. Regardless ~ All my reviews are my honest and personal opinion. I am disclosing this in accordance with the Federal Trade Commission's 16 CFR, Part 255: "Guides Concerning the Use of Endorsements and Testimonials in Advertising.".