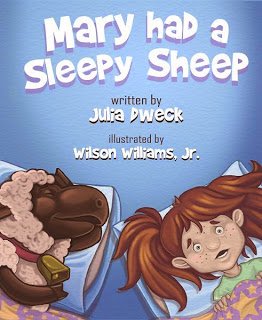 "Young Mary had a little lamb.
His name was Sheppard sheep,
And everywhere that Mary went
That sheep was sure to sleep."
This is not your average Mother Goose nursery rhyme. In this hilarious parody, poor Mary has one very sleepy, slumbering, snoozing sheep named Sheppard and Mary's mom is not happy.
Can Mary can keep her sleepy sheep awake?
Young readers will laugh along at Mary's zany attempts, as she tries everything from spicy-hot fiestas to water fights. The humor is fast and fun in this easy to read rhyming adventure.
My Review
:
What is poor Mary to do with her Little Lamb. After following her to school, he is exhausted. This poor sheep is sleepy and Mary's Mom is not happy about it.
Adorable, fun and entertaining, Mary Had a Sleepy Sheep is another fantastic ebook by author Julia Dweck. After
reading Blucy
, my daughter's were thrilled to find that we could review another book by this same author. Mary Had a Sleepy Sheep is full of wonderful illustrations, imaginative humor and rhyming fun.
All of my children, even my 12 year old son love this story. They laughed, giggled and pretended to be sleepy sheep throughout each reading of this charming story. Another highly recommended children's book from an author my children have added to their personal favorites!
Mary Had a Sleepy Sheep can be found on
Amazon.com
for only $3.19! Makes a great gift for little ones to read on kindle, ipad, iphone or whatever ereader you have!

Disclosure: I received free the item(s) mentioned in this post in exchange for my honest review. Regardless ~ All my reviews are my honest and personal opinion.
I am disclosing this in accordance with the Federal Trade Commission's 16 CFR, Part 255: "Guides Concerning the Use of Endorsements and Testimonials in Advertising.".