About Audrey Bunny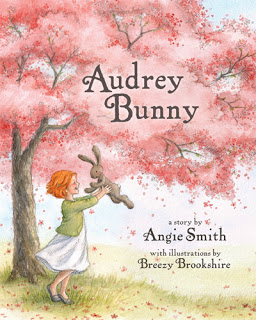 From best-selling women's author Angie Smith (
I Will Carry You, Mended
) comes this sweet children's book about a stuffed animal named Audrey Bunny who fears her imperfections make her unworthy of a little girl's love. She'll learn the truth soon enough, and young readers will learn that everyone is special and wonderfully made by God.
[Also included]: The Parent Connection (last page of the book) shares discussion questions and activities reinforcing God's love for us.
Angie Smith
is the wife of Todd Smith (lead singer of Dove Award winning group Selah), best-selling author of
Mended
,
I Will Carry You
, and
What Women Fear
, and one of the most popular speakers and blog writers in the country. She holds a Master's degree in Developmental Psychology from Vanderbilt University and lives with her husband and daughters in Nashville, TN.
Find out more about Angie Smith and her books
http://angiesmithonline.com/
Audrey Bunny is now #1 in Christian Children's Books at Amazon.com!
My Review
:
I was nearly in tears the first time I read about Audrey Bunny. The story of Audrey Bunny is a heartwarming tale of a stuffed bunny who is not perfect. She has a thumbprint type mark on her that has kept most children from choosing her. She is embarrassed about this imperfect mark and sad because she has not been chosen. Then, a miracle happens and a little girl named Caroline chooses her as a birthday gift. Audrey does her best to hide her mark from Caroline, afraid that she won't be loved or special if Caroline realizes she isn't a perfect bunny.
This story is one that captured not only my imagination and hear, but that of my daughter and her little friend who I read the story to. They both sighed, saddened that the bunny was not chosen in the beginning and clapped and were so excited when she was chosen by Caroline. My daughter told me that "she would love the bunny just the way she was" and it brought joy to this Mom's heart to hear that from my 5 year old.
The illustrations on each page are wonderfully accurate and adorable. The pictures helped make the story come alive for me and for the girls who were reading it with me. The loved the pictures of Audrey Bunny when she was hiding her mark, and especially the pictures of her going to school with Caroline!
This is a story of God's love, and how each of us are unique and wonderfully made. A story that tells every little one that he or she is special no matter what is on the outside. I love this story and will continue reading it over and over to my children, friends, and family. I also enjoyed the Parent Connection in the back of the book. It has questions and activities for parents and children to do together to reinforce the message of the story. I highly recommend this book for any child!
The Giveaway!
To kick off my Holiday Gift Guide 2013 - another amazing giveaway!
one hardcover print copy of Audrey Bunny will go to the winner of this giveaway
Open to US/Canada, 18+
Void where prohibited

Disclosure: I received free the item(s) mentioned in this post in exchange for my honest review. Regardless ~ All my reviews are my honest and personal opinion.
I am disclosing this in accordance with the Federal Trade Commission's 16 CFR, Part 255: "Guides Concerning the Use of Endorsements and Testimonials in Advertising.".