The Story:
Choose To Be Nice is a long time coming! Dina Creiger, Founder, kicked around the crazy idea of encouraging and inspiring kindness for a couple of years. An unexpected tragedy, the Boston Marathon Bombings, compelled her to finally move forward.
Since that awful day Dina hasn't stopped thinking about how the world truly is ready for Choose To Be Nice, a dedication to inspiring and encouraging kindness. After all, even in today's fast-paced, sometimes impersonal world, you still catch more flies with honey than vinegar.
The Choose to Be Nice Mission

The mission of Choose To Be Nice is very simple. We want to inspire, promote and encourage kindness whenever and wherever possible.
My Review Story:
I've worn my "Choose to Be Nice" Tshirt several times now, even once to the Zoo on vacation with my family. I really don't have a unique or interesting story of how someone was nicer just because of my shirt, but I do think it helped me think nicer thoughts - and sort of "curb my tongue" so to speak.
My kids were wearing me out by the end of our Zoo day and were being even more annoyingly annoying to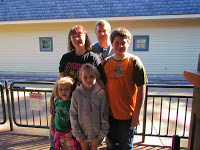 each other (and me of course) and I kept reminding myself that "this is their day" ~ "this is their vacation, not mine" ~ and I think I was more tolerant of their antics than I might have been otherwise. Now I can't say it was due to the shirt, but I did try to be nicer each time I wore it.
And, I love the shirt - I love the message and my children notice what it says. My youngest asked if she can have one like mine too - so I'll have to get her one! After all, even children should "choose to be nice"
I have thought it would make a wonderful statement if all three of my kids wore one each week to school - we have had a few instances of bullying in my son's classes (5th and 6th grades) and now my 3rd grader as well. I love that "Choose to be nice" can be read as a positive message for anyone in almost any situation!
Check out the "Choose to Be Nice" movement here ~
http://choosetobenice.com/

Disclosure: I received free the item(s) mentioned in this post in exchange for my honest review. Regardless ~ All my reviews are my honest and personal opinion.
I am disclosing this in accordance with the Federal Trade Commission's 16 CFR, Part 255: "Guides Concerning the Use of Endorsements and Testimonials in Advertising.".