My two older children LOVE to take their lunches to school. With the new food rules about healthier school lunches, my kids eat at school less and less than they used to. The 'whole wheat' breads and buns often taste stale to them, and many of the side items are weird and do not taste as the kids think they should. So sorry "healthier" lunch options, but my kids are not fond of your taste, textures, funny looking broccoli or weird dried apricots and beets for side dishes.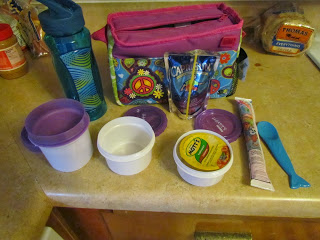 So, with lunchboxes frequently disappearing while left at school by one of my children - no need to mention which one (oldest and only son) . . . we are always on the lookout for inexpensive but fun lunchboxes and ice packs to hold their ever expanding selection of "easy to pack and take to school" foods.
When I saw a review on a fellow mom blogger's blog post, I thought I'd see if Cool Gear would be willing to have me review for them as well. My kids and I were all absolutely thrilled when they said YES. So, I had my youngest, who is currently in half-day kindergarten and not yet eating school lunches, help me choose the 'gear' for this review.
She and her sister both love peace signs, hearts, flowers and butterflies - so the lunchbox was an easy choice for her but not so much for me. Cool Gear has a great selection and I had a hard time choosing. . . 'should I be the good mommy and get one for the kids or get the fun one for Me?!?'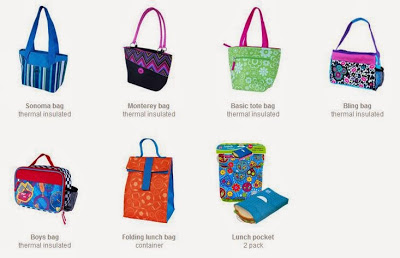 So, I let her choose. Then I took over and chose these wonderful inventions to add to the set. They are "
stackable snack cups
" in three fun sizes. Perfect for little portions on the go. The largest one (9.6 fl oz) has a gel inside that is freezable like an icepack. The middle size one (9.2 fl oz) has a freezer gel lid - then the smallest one (7.6 fl oz) is the perfect size for applesauce or fruit packs.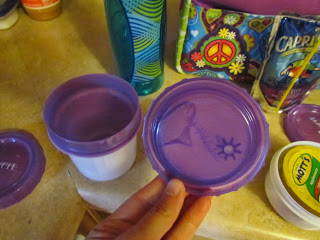 And finally, we were sent a Cool Gear
24oz Razor Water bottle
with a freezer stick that can be inserted to keep drinks cold and fresh. This one was randomly selected by Cool Gear and my son loves the color. The girls are ok with it but would have preferred the
pink one
of course - lol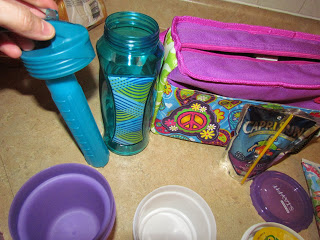 Well, we are all more than happy with these products and they have already been used quite a few times for school lunches, twice now for on the go snack time, and once for an impromptu backyard picnic with my youngest. Cool Gear can be purchased at local stores or via their online store at
http://shop.coolgearinc.com/
You can also find Cool Gear on these social media sites:

Disclosure: I received free the item(s) mentioned in this post in exchange for my honest review. Regardless ~ All my reviews are my honest and personal opinion.
I am disclosing this in accordance with the Federal Trade Commission's 16 CFR, Part 255: "Guides Concerning the Use of Endorsements and Testimonials in Advertising.".